Las Vegas Plastic Surgery: Jeffrey J. Roth M.D. F.A.C.S.
6140 S. Fort Apache Road, #100
Las Vegas, NV 89148
Phone: (702) 450-0777
Monday–Friday: 9 a.m.–5 p.m.

Look and Feel Naturally "You"
Your dream of having fuller, shapelier, more proportional breasts doesn't have to be a fantasy. You can bring your best you to life through breast augmentation with implants ("boob job") at our Las Vegas, NV, plastic surgery practice. This popular procedure can change the way you see your figure, increasing your self-confidence along with your breast size. Board-certified plastic surgeon Dr. Jeffrey J. Roth has more than 20 years of experience safely creating exceptional results that look and feel naturally "you."
Featured Breast Augmentation Before & After Photos
WARNING:
This feature contains nudity. Please click OK to confirm you are at least 18 years of age and are not offended by such material.
What Is Breast Augmentation?
Breast augmentation is a cosmetic plastic surgery procedure that increases the size of the breasts using silicone or saline breast implants. Benefits of this procedure include:
Can improve breast asymmetry
Restores volume following weight loss or breastfeeding
Enhances the overall shape of the breasts
Increases breast projection
Creates more balanced proportions
Many breast augmentation patients report a new sense of self-confidence following the procedure. A recent survey from the American Society of Plastic Surgeons reports that 98% of women felt their augmentation either met or exceeded their expectations. Over 90% also said they felt the procedure increased their self-esteem.
Who Is an Ideal Candidate for Breast Augmentation?
Have you always thought your breasts were disproportionally small compared to the rest of your figure? Do you wish your breasts were more symmetrical? Do you have a hard time "filling out" swimsuits or low-cut tops? These are all signs this procedure is right for you—and if it is, it may be just the boost you need to look and feel your very best.
As you consider breast augmentation, however, Dr. Roth stresses that the decision needs to be for you and you alone. This isn't something to do for a spouse or partner. It needs to be something you want for yourself.
Why Choose Dr. Roth for Your Breast Augmentation?
Beyond Dr. Roth's extensive experience in plastic surgery, what his patients value most about him is his down-to-earth, unrushed approach and his commitment to providing concierge-level patient care. Through interactive and educational consultations, he builds trust and connections that last long after your incisions have healed. In Dr. Roth's care, you can count on a supportive, luxurious experience that leaves you with the natural-looking results you have always wanted.
Reviews
Read what real people like you have shared about their experiences with Dr. Roth and his team.
Read Our Reviews
How Much Does Breast Augmentation Cost in Las Vegas?
The cost of your breast augmentation in Las Vegas will vary due to several factors, including which breast implants you choose and the complexity of the procedure.
During your consultation with Dr. Roth, you will discuss your goals and your options for achieving them. Once we have a good idea of how you'd like to proceed, we will give you an exact cost for your augmentation.
We happily accept payment through CareCredit®, a third-party lending company that offers affordable monthly financing plans for elective healthcare procedures.
How Is Breast Augmentation Performed?
Breast augmentation usually takes about an hour, depending on the complexity of the surgery. Dr. Roth uses a discreet incision to create a breast implant pocket either in front of (subglandular), behind (submuscular), or partially behind (dual plane) the pectoral muscle. After placing either a saline or silicone breast implant, he carefully closes the incisions to leave you with the smallest scar possible.
Saline vs. Silicone Breast Implants: Which Option Is Best for Me?
Choosing between saline and silicone breast implants is one of the most important decisions you and Dr. Roth will make when customizing your results.
Saline Breast Implants
Saline implants are filled with a sterile saltwater solution. They are FDA-approved for people aged 18 and older. Because saline implants contain liquid, they are more prone to rippling and wrinkling, and some women feel saline implants do not look or feel as natural as silicone implants.
In the event of a rupture or tear, your body will harmlessly absorb the saline fluid. The implant and breast will flatten as the implant deflates, so it is very easy to tell if a saline implant is leaking, which will cue you to call the surgeon and get the implant replaced.
Silicone Breast Implants
Silicone breast implants contain a cohesive silicone gel, which resembles the consistency of real human fat. These implants are FDA-approved for people aged 22 and older.
Silicone breast implants look and feel optimally natural. If the shell tears, the gel maintains its shape, so routine MRIs may be recommended to make sure everything is looking good as time goes on.
Where Are Breast Augmentation Incisions Made?
There are three main incision options for breast augmentation.
Periareolar
This incision is circular and made along the lower border of the areola. It is hidden well by the skin color change that occurs in this area. 
Inframammary
This incision is made in the inframammary fold of the breast, where the breast meets the chest wall.
Transaxillary
The transaxillary incision is made in the underarm. Some women prefer it because it is so well-concealed, but its remote location limits implant options. 
Dr. Roth will recommend the best incision location based on the nature of your implants and your current breast measurements.
Will I Have a Visible Scar After Breast Augmentation?
Dr. Roth always creates incisions that are as inconspicuous as possible. Each person's body and skin type react a little differently to scarring, but we make sure you are armed with the best aftercare instructions to promote proper healing. Scars will become lighter in color and flatter as time goes by.
Meet

Dr. Roth

Dr. Jeffrey Roth is a board-certified plastic surgeon and a Las Vegas local since 1977. Drawn to medicine by his innate desire to help others, he provides exceptionally natural-looking results, concierge-level service, and long-lasting connections to every person who walks through the doors of his practice, Las Vegas Plastic Surgery.

Get to Know Dr. Roth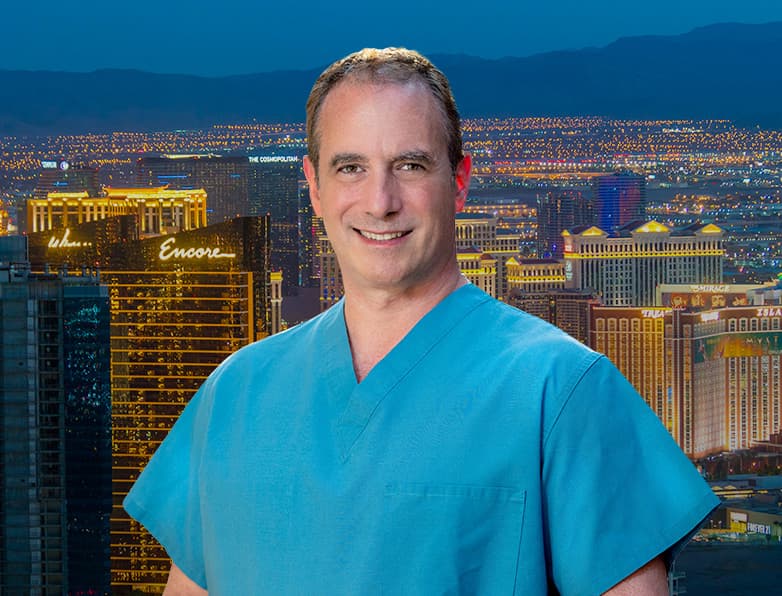 Credentials You Can Trust:


Should I Combine My Breast Augmentation With a Breast Lift?
If you're looking to address drooping, sagging, a deflated appearance, or downward-pointing nipples in addition to your breast size, you may want to consider combining your breast augmentation with a breast lift, also referred to as a breast lift with implants. Popular after weight loss or pregnancy, this approach both adds volume and lifts the breast to a higher, more youthful position within the same surgery.
To learn more about combining breast augmentation with breast lift, read our blog post on the topic.
How Does Breast Augmentation Correct Breast Asymmetry?
Breast implants are an excellent way to correct mild to severe breast asymmetry. To achieve this, Dr. Roth either places an implant only in the smaller breast or places differently sized implants in each breast to create a more symmetrical look.
Is Breast Augmentation Safe? What Are the Risks?
Breast augmentation is major surgery, and it has the risks involved with any surgery: primarily anesthesia reaction, bleeding, and infection. The procedure has some specific risks, including the loss of nipple or breast sensation, implant leakage or rupture (if the implant is somehow nicked during placement), or improper positioning. 
The main enduring risk is capsular contracture. This is the body's reaction to the implants, which is to build scar tissue around them. If the scar tissue becomes too aggressive, it may deform the implants and cause them to feel overly firm or hard. If this happens, they will need to be replaced and the excess scar tissue removed.
All these risks are minimized when you choose an experienced, board-certified plastic surgeon to perform your breast augmentation.
What to Expect
Bringing your best look to life is as easy as 1-2-3.
Breast Augmentation Recovery Timeline
The timeline for breast augmentation recovery can vary depending on the individual and the specific surgical technique used, but here is a general guideline:
Immediately after surgery: You will be taken to a recovery room where medical staff will monitor your vital signs until you are alert enough to be discharged. You will likely feel groggy and sore, and your chest may be wrapped in bandages or a surgical bra.
Days 1-3: You will need to rest and avoid any strenuous activity during the first few days after surgery. You may experience swelling, bruising, and soreness in your chest. Dr. Roth will prescribe pain medication to help manage any discomfort.
Days 4-7: You may begin to feel more comfortable and be able to resume some normal activities, but you should still avoid anything that involves heavy lifting or strenuous exercise. You may have a follow-up appointment with Dr. Roth during this time to check on your progress.
Weeks 1-2: You may be able to return to work and light activities, but you should still avoid any exercise that involves the chest or upper body. You will wear a surgical bra or supportive sports bra during this time to help support your breasts and reduce swelling.
Weeks 3-4: You may start to feel more like yourself and be able to resume light exercise and other activities. Dr. Roth may advise you to start massaging your breasts to help soften any scar tissue and improve the final result.
Months 3-6: By this point, most of the swelling and bruising should have subsided, and your breasts should have settled into their final position. You may be able to resume all normal activities, including strenuous exercise, but you should still avoid any activities that put pressure on the chest.
It's important to follow Dr. Roth's specific instructions for post-operative care and attend all follow-up appointments to ensure the best possible outcome. For more detailed information, read our blog post on breast augmentation recovery day-by-day.
When Can I Return to Work & Exercise After Breast Augmentation?
If your work is non-physical, you may return as you feel fit. If work is more strenuous, you should wait for 7 to 10 days. Do not do anything that requires straining, reaching, or lifting for at least 10 to 14 days to reduce the chance of swelling or bleeding. This is especially true of upper body activity, including household chores such as vacuuming or exercise such as weight training. Walking and stretching are encouraged.
How Long Do Breast Implants Last?
While implants are becoming more durable, there are, unfortunately, no "lifetime" implants. Implant manufacturers warranty their implants for 10 years. However, some may only last 5 years, while others last 20 years.
When implants reach their lifespan, they will weaken and rupture. That will require breast revision surgery to remove the ruptured implant (and any silicone gel that may have leaked out with silicone implants) and to replace both implants with new implants. In most cases, the surgery uses the same incisions and implant pockets as your original augmentation, leaving you with no new scarring.
A woman having breast implant surgery in her 30s can reasonably expect to need to replace her implants at least 2 or 3 times in her lifetime. 
Does Insurance Cover Breast Augmentation?
Insurance companies deem breast augmentation an elective cosmetic procedure, so it is not covered. There is one exception: the placement of breast implants as part of breast reconstruction after a mastectomy. These are generally considered to be medically necessary and are covered. 
A New You Starts Now
If you're interested in enhancing your breasts, we encourage you to take the next step in the journey by meeting with Dr. Roth. Please request a consultation online or call (702) 450-0777 to get started. Dr. Roth welcomes breast augmentation patients from Las Vegas, Henderson, other Nevada communities, and around the globe. We look forward to serving you!