Las Vegas Plastic Surgery: Jeffrey J. Roth M.D. F.A.C.S.
6140 S. Fort Apache Road, #100
Las Vegas, NV 89148
Phone: (702) 450-0777
Monday–Friday: 9 a.m.–5 p.m.

Facial resurfacing is used to treat irregularities of surface contour, pigmentation, and some wrinkles. Different modalities can be used to achieve the desired results. These modalities can include; Medical Micro Dermabrasion, Surgical Dermabrasion, Chemical Peels, and Lasers.
Facial Resurfacing Consultation
Dr. Roth will first listen to your concerns and goals. He will then gather a brief medical history. This will usually cover; general health, medications, allergies, smoking and drug history, sun exposure, pregnancy, or if you are currently nursing. Dr. Roth will examine you and will describe not only what he sees, but also how it relates to your appearance or other issues. He will then explain what might be done to improve each area. You may not wish to take advantage of every treatment that is available, but at least you can know about available options and what each might offer.
There is a vast range of facial surface problems, and subsequent treatment modalities. Some modalities can be combined for maximal effect.
Pre-Procedure for Facial Resurfacing
As stated above, there are many modalities. Most often facial resurfacing will start with treatments that can be done in the office. As an office procedure, there is appropriate consultation and education, and then the treatment usually can be done at that time. (Medical Microdermabrasion, Chemical Peels) Unique or more extensive procedures using more invasive modalities (Surgical Dermabrasion, Laser), may need more pre-procedure evaluation and planning.
Certain issues can affect skin health, and should be addressed whenever a treatment program starts. Addressing these issues can help treat damaged skin, and prevent further insults. These insults manifest as wrinkles, as well as pigment and contour irregularities. Cigarette smoking has a significant impact on skin health and should be discontinued as part of the overall skin health plan. Sun exposure is also a major insult to the health of the skin. An appropriate sun protection formula should be worn.
Meet

Dr. Roth

Dr. Jeffrey Roth is a board-certified plastic surgeon and a Las Vegas local since 1977. Drawn to medicine by his innate desire to help others, he provides exceptionally natural-looking results, concierge-level service, and long-lasting connections to every person who walks through the doors of his practice, Las Vegas Plastic Surgery.

Get to Know Dr. Roth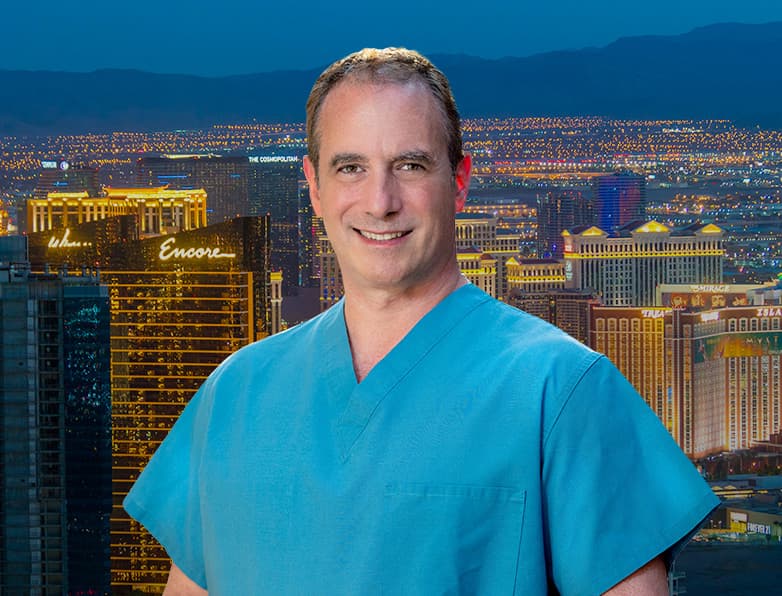 Credentials You Can Trust:


Day of Facial Resurfacing
As above, the procedure, or combination of skin care and procedures will vary with the individual. The procedure will be explained, and any questions answered in the consultation.
Office procedures can often be done at the time of consultation, (schedule permitting), or soon after the initial consultation.
Facial Resurfacing Recovery
The recovery period after the procedures will be different with each procedure and each individual.
Office procedures are usually well tolerated, and patients can go back to their normal routine. More extensive procedures may have a longer recovery time
Everyone responds differently to a procedure. It may take multiple treatments, and some time for the healing process to let you accurately appreciate the treatments. With proper modalities you should be able to maximize the healing process and help to achieve your goals.
Facial Resurfacing FAQs
Q: How often should you get microdermabrasion?
A: Microdermabrasion is safe enough to have done weekly, but it's typically best to schedule treatments every month or so. This will keep your skin texture even and clear of acne scars and other concerns.
---
Q: Is microdermabrasion good for acne?
A: Microdermabrasion can be beneficial for those experiencing mild acne breakouts and acne scarring. It exfoliates pore-clogging dead skin and debris, keeping the skin clear. However, it is not recommended for moderate or severe inflammatory acne, as it may further irritate and inflame the skin.
---
Q: How long does laser skin resurfacing last?
A: Laser skin resurfacing results typically last at least 6 months to a year and often longer. The specific timeline depends on treatment type and depth.
Schedule a Consultation With Our Office
For further information and answers to any questions you may have, please call our Las Vegas office at (702) 450-0777 or request a consultation online. We look forward to serving you.