Las Vegas Plastic Surgery: Jeffrey J. Roth M.D. F.A.C.S.
6140 S. Fort Apache Road, #100
Las Vegas, NV 89148
Phone: (702) 450-0777
Monday–Friday: 9 a.m.–5 p.m.

Your nose is an important facial feature. Its size and shape have a significant influence on your overall appearance. You deserve to feel attractive and self-assured, and adjusting nasal characteristics may be the right way to do so. Rhinoplasty is a plastic surgery procedure that re-shapes and modifies the nose to be balanced and aesthetically pleasing.
Dr. Jeffrey Roth is a longtime Las Vegas resident and board-certified plastic surgeon. He wants to make sure each and every one of his patients receives results they love. To find out if nose surgery is right for you, please contact us to arrange a consultation with Dr. Roth.
Who is a Good Candidate for Rhinoplasty?
You may be a good candidate for nose surgery if you want to address one or more of the following:
Nose size
Nose shape
Nose width
Crooked nasal bridge
Hump in the nasal bridge
Large nostrils
Asymmetrical nostrils
Overall asymmetry
Upturned nose tip
Drooping nose tip
Breathing problems related to nose structure
The only way to know if you are a good candidate is to visit Dr. Roth for a consultation. Most people have known their whole lives that they want to change their nose size or shape. If you have experienced this type dissatisfaction, then you are likely a good candidate for the procedure.
Sometimes the prospective rhinoplasty patient is a young adult. We develop our nose size and shape early on in life, so oftentimes adolescence is the phase of life in which a person realizes they do not like their nose. Although nose surgery is sometimes an option for younger adults and teens, the key is to determine if the facial bones have stopped developing, which occurs around age 16-18. It is not ideal to perform a nose procedure if the bones will continue to develop afterward, therefore changing the results achieved. Additionally, Dr. Roth will work with both teen and parent to ensure the seriousness and permanence of the decision is understood, and that the young patient possesses a high level of maturity related to making this decision.
Meet

Dr. Roth

Dr. Jeffrey Roth is a board-certified plastic surgeon and a Las Vegas local since 1977. Drawn to medicine by his innate desire to help others, he provides exceptionally natural-looking results, concierge-level service, and long-lasting connections to every person who walks through the doors of his practice, Las Vegas Plastic Surgery.

Get to Know Dr. Roth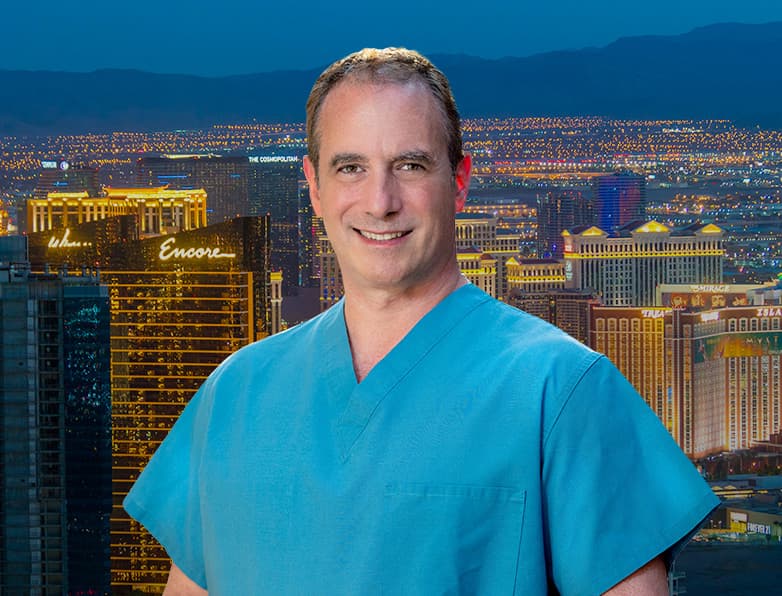 Credentials You Can Trust:


Matching You to the Right Technique
There are two main ways a rhinoplasty is completed:
The closed technique, in which all incisions are made within the nose. The advantage is that incisions will not leave scars on the outside of your nose. The surgeon does not have unobstructed visibility of the nose when using this technique, but Dr. Roth provides great results with this method nonetheless.
The open technique, in which a small incision is made across the strip of skin on the underside of your nose, between the nostrils (called the columella). This incision gives the plastic surgeon optimal visibility of the surgical area. This option is more often used with extensive tip work or revision surgery.
An experienced nose surgeon like Dr. Roth can utilize either technique based on what is best for the patient and their results.
Is It Worth Getting a Nose Job?
Nose re-shaping often lands in the top 5 cosmetic procedures nationally. A couple hundred thousand people undergo the surgery each year. Many patients report improved self-esteem, self-confidence and self-image following rhinoplasty. Even the most subtle changes to the nose can have a profoundly positive effect on facial harmony and balance between facial features.
While rhinoplasty is a very popular procedure with high rates of patient satisfaction, that doesn't mean it's necessarily right for you as an individual. Dr. Roth first wants to meet you, examine your face, listen to your goals, and then help you decide if rhinoplasty will provide the outcomes you are looking for.
Reviews
Read what real people like you have shared about their experiences with Dr. Roth and his team.
Read Our Reviews
The Importance of Selecting a Qualified Nose Surgeon
Your nose is literally front-and-center. It's a focal point to your face and always out there for people to see. It's important to choose a plastic surgeon who understands nasal anatomy and performs rhinoplasty routinely, so that you can be assured of an aesthetically pleasing final result.
Dr. Roth is a board-certified plastic surgeon who has been serving Las Vegas for many years. He has dedicated his career and his life to the fields of medicine and plastic surgery. He has a thorough understanding of the anatomy of the nose, so he can make the necessary modifications while producing results that look natural. He is personally committed to helping his patients look and feel great.
Rhinoplasty Consultation
Dr. Roth will first listen to your concerns and goals. He will then gather a thorough medical history. Past medical events may impact your surgery, anesthesia, and recovery. Current issues such as; medications, herbal remedies, allergies, smoking, drug use, bleeding and scarring tendencies, will be reviewed. Chronic issues, (e.g. diabetes, high blood pressure, auto immune disease), are also important. Specifically, history of breathing problems, trauma, and previous operations to the nose will be discussed.
Dr. Roth will examine your nose. An exam of your remaining facial features will also be done so as to evaluate how your the appearance of your nose is related to the rest of your face. Dr. Roth will explain what he sees, and how it relates to your appearance or other issues. He will then explain what might be done to improve each area medically or surgically. You may not wish to take advantage of every treatment that is available, but at least you can know about available options and what each might offer.
Pre-Procedure for Rhinoplasty
Many things can effect the success of the procedure, the subsequent healing process, and final result. Clearly, issues effecting your general health and ability to heal can impact the process, but more subtle issues and practices can also make a significant impact.. It is imperative that patients refrain from ingesting any medications or other substances that could potentially cause surgical complications. A list of medications should be reviewed and selected medications discontinued at least two weeks prior to the procedure.
Patients undergo a general physical examination prior to their surgery. This is to ensure that no underlying medical problems exist that may interfere with the safety of their surgery. The Anesthesiologist may have specific criteria to be met. Appropriate consultation, (Cardiology, Pulmonary, etc.) may be requested to address any issues. Any issues, however trivial they may seem, should be reported. For example, a seemingly innocent minor infection can result in a surgical wound infection, and so must be treated prior to surgery. Likewise, hypertension must be under control. Blood pressure medicines are typically taken right up to the time of your procedure. Cigarette smoking has a significant impact on wound healing and needs to be discontinued prior to the operation. Some procedures will not be performed in those who smoke. The extent of some procedures may be significantly curtailed. Serious wound healing complications can occur in patients who are exposed to smoke, even passively. The risk of wound healing problems decreases after one quits. Appropriate timing of surgery after cessation of tobacco exposure can be discussed.
Preoperative photographs are taken. They assist in the planning of the procedure and in reviewing the improvement afterwards. Postoperative photographs are generally taken at 3 and 6 months after your procedure as well.
You will be asked to sign a surgical consent, which enumerates the risks of the procedure in detail. Some of these risks have been reviewed here, but are also discussed at the consultation.
Appropriate prescriptions are written, (e.g. pain pills, so that you will be able to take them when you return home).
You will need to arrange for someone to drive you to and from the surgery center. Patients cannot drive after surgery, and for 10 days afterward. Recently sedated patients will not be placed into taxis for transport home. Medical transportation can be arranged in the event that you cannot find someone. It is also mandatory to have someone stay with you for at least 24 hours after surgery, for your comfort and safety.
Day of Rhinoplasty Surgery
After arrival at the surgicenter. The nursing staff will register you and have you change into the appropriate gown.
Incisions are usually marked prior to taking you to the operating room.
The choice of anesthetic will be made with input from the Patient, Surgeon and Anesthesiologist. Continuous monitoring of your vital signs is carried out throughout the operation.
Procedure times can vary, depending on the extent of your particular anatomy, tissues, and procedure. Appropriate arrangements will be made so that you'll be observed for the first night after the procedure.
What to Expect
Bringing your best look to life is as easy as 1-2-3.
Recovery After Rhinoplasty
Remember that any surgical procedure requires a certain period of recovery from the surgery and anesthetic. Individuals vary, but it is possible (and normal) to experience swelling and bruising. Depending on how you feel, you can still go out in public. Makeup can be worn to cover visible areas of bruising. We offer a complete line of concealment and everyday makeup, and can help select the correct modality for you.
You will need to have someone drive you home from the surgery center. You should also have someone stay with you the first couple of days after you go home. You will also need someone to drive you to your visits to the Doctor. Remember, no driving for 10 days after the procedure. You should maintain head elevation of at least 30 degrees from horizontal to keep the swelling down. Any discomfort following a Rhinoplasty, (Nose Job), and/or Septoplasty is usually controlled well with the prescribed pain medication. Ice packs will help both swelling and discomfort. It is more important to sleep than to have ice on your eyelids, so don't "stay up" in order to apply ice. Some minimal oozing and bleeding is normal and expected.
The splint applied to your nose is intended to provide protection. It is usually removed a week after surgery. If any packing was used, this usually is removed 2-7 days after surgery.
Although you will be up and around in a day or two, you should plan to rest as much as possible for the first week. If your work is secondary, you may return as you feel fit. If work is more strenuous, you should wait 7-10 days. Do not do anything that requires straining or heavy exercise for at least 10-14 days. Likewise, you should avoid vigorous activity, including sex, for two weeks after surgery, this will reduce the incidence of swelling or bleeding. Walking and stretching are encouraged. You should have someone walk with you for the first week, in case you get tired. You should avoid bending over for about three weeks, and avoid alcohol, steam baths, and saunas for four weeks after surgery. The eyelid areas may be numb for weeks to months, and so heating pads and sun lamps are to be absolutely avoided. Sun exposure is discouraged for at least the first few months.
Rhinoplasty FAQs
Q: Do you have to break my nose during a Rhinoplasty, (Nose Job)?
A: A controlled fracturing, (or re-fracturing if previously fractured), of the nasal bones is one technique that may be part of the operation. It is important to match the specific techniques to the individual patient.
---
Q: Do I have to miss school or work?
A: As an elective procedure, arrangements can usually made to accommodate a particular schedule, (winter break, etc.). The splint usually stays on for a week.
---
Q: Can the procedure help my breathing problems?
A: This would have to be evaluated on an individual basis. The Rhinoplasty may be combined with other techniques, (Septoplasty, Turbinectomy), to address these concerns.
---
Q: At what age can you get a nose job?
A: You can get a nose job as soon as your features have finished growing and developing. This usually happens in the teen years, a bit earlier for girls than for boys. Beyond that, you can have a rhinoplasty done at any age, as long as you are healthy enough to undergo surgery.
---
Q: Do nose jobs age well?
A: Yes, nose jobs are intended to be lifetime procedures. Once you reshape your nose with surgery, you can enjoy that result indefinitely. Even as you age, your nose will naturally age along with you. The only reason a nose job may not age well is if a surgeon removes too much cartilage and tissue, which may compromise your nose's structure. However, board-certified plastic surgeons are trained to avoid this and create only sustainable, natural-looking rhinoplasty results.
---
Q: What is a non surgical nose job?
A: A non surgical nose job uses injectable dermal fillers to disguise bumps, correct asymmetries, create the illusion of a narrow bridge, and more. This approach has a "subtraction by addition" effect: Although the filler is technically adding volume, the strategic placement makes the nose appear narrower and straighter. Non surgical nose job results are temporary, typically lasting 2 years or less.
Schedule a Rhinoplasty Consultation Today!
To learn more about whether a Rhinoplasty is right for you, please be sure to consult Dr. Jeffrey Roth about the procedure! Request a consultation online or call (702) 450-0777 to reach our Las Vegas office. Our practice serves Las Vegas and the surrounding areas of Nevada.