Las Vegas Plastic Surgery: Jeffrey J. Roth M.D. F.A.C.S.
6140 S. Fort Apache Road, #100
Las Vegas, NV 89148
Phone: (702) 450-0777
Monday–Friday: 9 a.m.–5 p.m.

At Las Vegas Plastic Surgery, eyelid surgery is used to remove fat, excess skin and muscle from the upper and/or lower eyelids. The procedure is great for taking years off a person's appearance and in making one look less tired, by eliminating bags from under the eyes.
Eyelid Surgery Consultation
Dr. Roth will first listen to your concerns and goals. He will then gather a thorough medical history. Specifically, history of dryness of the eyes, prior surgery to the eyelid or eye muscle, or use of corrective lenses of any type are important issues. An examination of both the upper and lower eyelids will be done to determine issues which could impact eyelid aging, such as the effect of the eyebrows and the skin itself. A test of the tear ducts and a vision exam might be done at this time, as necessary.
An exam of your remaining facial features will also be done so as to evaluate how your eyelid appearance is related to the rest of your face. Dr. Roth will explain what he sees and how it relates to how aging has affected your appearance. He will then explain what might be done to improve each area medically or surgically. You may not wish to take advantage of every treatment that is available for rejuvenation, but at least you can know about available options and what each might offer.
Meet

Dr. Roth

Dr. Jeffrey Roth is a board-certified plastic surgeon and a Las Vegas local since 1977. Drawn to medicine by his innate desire to help others, he provides exceptionally natural-looking results, concierge-level service, and long-lasting connections to every person who walks through the doors of his practice, Las Vegas Plastic Surgery.

Get to Know Dr. Roth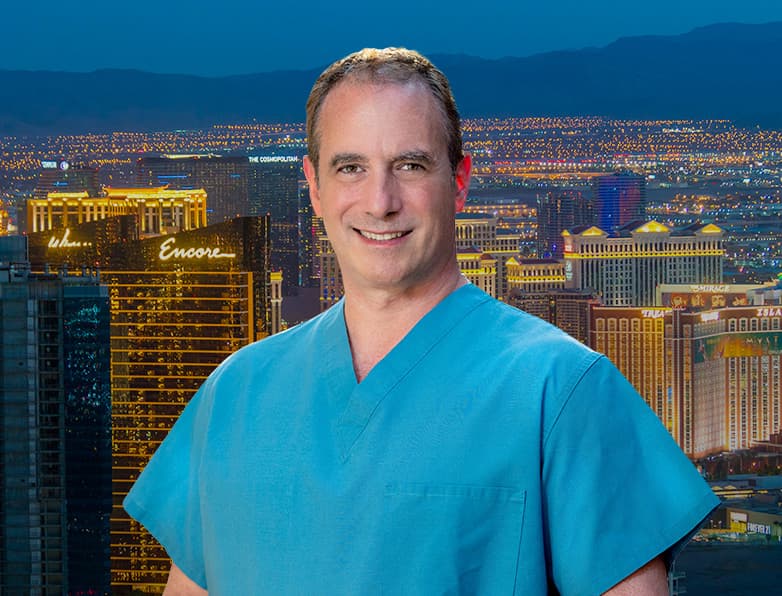 Credentials You Can Trust:


Pre-Procedure for Eyelid Surgery
Many things can effect the success of the procedure, the subsequent healing process, and final result. Clearly, issues effecting your general health and ability to heal can impact the process, but more subtle issues and practices can also make a significant impact.. It is imperative that patients refrain from ingesting any medications or other substances that could potentially cause surgical complications. A list of medications should be reviewed and selected medications discontinued at least two weeks prior to the procedure.
Patients undergo a general physical examination prior to their surgery. This is to ensure that no underlying medical problems exist that may interfere with the safety of their surgery. The Anesthesiologist may have specific criteria to be met. Appropriate consultation, (Cardiology, Pulmonary, etc.) may be requested to address any issues. Any issues, however trivial they may seem, should be reported. For example, a seemingly innocent minor infection can result in a surgical wound infection, and so must be treated prior to surgery. Likewise, hypertension must be under control.
Blood pressure medicines are typically taken right up to the time of your procedure. Cigarette smoking has a significant impact on wound healing and needs to be discontinued prior to the operation. Some procedures will not be performed in those who smoke. The extent of some procedures may be significantly curtailed. Serious wound healing complications can occur in patients who are exposed to smoke, even passively. The risk of wound healing problems decreases after one quits. Appropriate timing of surgery after cessation of tobacco exposure can be discussed.
Preoperative photographs are taken. They assist in the planning of the procedure and in reviewing the improvement afterwards.
Postoperative Photographs are generally taken at 3 and 6 months after your procedure as well.
You will be asked to sign a surgical consent, which enumerates the risks of the procedure in detail. Some of these risks have been reviewed here, but are also discussed at the consultation.
Appropriate prescriptions are written, (e.g. pain pills, so that you will be able to take them when you return home).
You will need to arrange for someone to drive you to and from thesurgery center. Patients cannot drive after surgery, and for 10 days afterward.
Recently sedated patients will not be placed into taxis for transport home. Medical transportation can be arranged in the event that you cannot find someone. It is also mandatory that appropriate arrangements will be made so that you will be observed the first few nights after the procedure.
Reviews
Read what real people like you have shared about their experiences with Dr. Roth and his team.
Read Our Reviews
Day of Eyelid Surgery
After arrival at the surgicenter. The nursing staff will register you and have you change into the appropriate gown. Incisions are usually marked prior to taking you to the operating room.
The choice of anesthetic will be made with input from the Patient, Surgeon and Anesthesiologist. Continuous monitoring of your vital signs is carried out throughout the operation.
There are different ways to lift the eyelids. These are determined by the individual's anatomy, tissues, and goals.
The procedure usually takes about an hour or two, depending on the extent of your particular anatomy, tissues, and procedure. Appropriate arrangements will be made so that you'll be observed for the first night after the procedure.
What to Expect
Bringing your best look to life is as easy as 1-2-3.
Eyelid Surgery Recovery
Remember that any surgical procedure requires a certain period of recovery from the surgery and anesthetic. Individuals vary, but it is possible (and normal) to experience swelling and bruising.
You will need to have someone drive you home from the surgery center. You should also have someone stay with you the first couple of days after you go home. You will also need someone to drive you to your visits to the Doctor. Remember, no driving for 10 days after the procedure. You should maintain head elevation of at least 30 degrees from horizontal to keep the swelling down. Any discomfort following a eyelid lift, (blepharoplasty), is usually controlled well with the prescribed pain medication. Ice packs will help both swelling and discomfort. It is more important to sleep than to have ice on your eyelids, so don't "stay up" in order to apply ice. You may also notice that your eyes feel drier than normal. This will usually subside in a matter of days to weeks. Artificial tears can be used to comfort and protect the eye surface. You may shower and wash face after being seen at the office.
We suggest a "no tears" product. Do not rub the area vigorously. The sutures are typically removed from the incisions at about 7 days, and replaced with steri-strips. These remain in place for several days.
Although you will be up and around in a day or two, you should plan to rest as much as possible for the first week. Do not do anything that requires straining or heavy exercise for at least 10-14 days. Likewise, you should avoid vigorous activity, including sex, for two weeks after surgery, this will reduce the incidence of swelling or bleeding. Walking and stretching are encouraged. You should have someone walk with you for the first week, in case you get tired. You should avoid bending over for about three weeks, and avoid alcohol, steam baths, and saunas for four weeks after surgery. The eyelid areas may be numb for weeks to months, and so heating pads and sun lamps are to be absolutely avoided. Sun exposure is discouraged for at least the first few months.
Everyone responds differently to an operation. It may take some time for the healing process to let you accurately appreciate the operation. Most patients appreciate their final appearance in a few weeks. All of the swelling may not disappear for weeks to months. With proper peri-operative care, you should be able to maximize the healing process and help to achieve your goals.
Eyelid Surgery FAQs
Q: People tell me I look tired all the time. My eyelids are drooping. Do I need eyelid surgery?
A: Blepharoplasty, (eyelift), is a procedure that removes the excess skin and fat around the eyes. This often will freshen up the eyes, giving a more vibrant appearance.
---
Q: How long after blepharoplasty can I wear makeup?
A: You can wear makeup as soon as your incisions have healed completely, which typically takes 2 to 3 weeks.
---
Q: Does lower blepharoplasty change eye shape?
A: Lower blepharoplasty is not intended to change the shape of the eye. However, removing puffy bags or filling in hollows can sometimes affect the shape a bit. This won't make you look like a different person or compromise your aesthetic integrity. It will simply make your eyes appear a bit more open and rested, giving your face an overall refreshed appearance.
---
Q: How long do eyelids stay swollen after eyelid surgery?
A: Initial swelling typically lasts about 2 or 3 weeks after eyelid surgery, but some residual swelling may continue for another couple of months. Most of the time, this last bit of swelling is fairly imperceptible.
Schedule a Consultation With Our Office
For further information and answers to any questions you may have, please call our Las Vegas office at (702) 450-0777 or request a consultation online. We look forward to serving you.