Las Vegas Plastic Surgery: Jeffrey J. Roth M.D. F.A.C.S.
6140 S. Fort Apache Road, #100
Las Vegas, NV 89148
Phone: (702) 450-0777
Monday–Friday: 9 a.m.–5 p.m.

Put Your Best Face Forward
We naturally lose facial fullness and skin elasticity as we age, leading to wrinkles and fallen features. Even before the aging process begins, many of us wish to enhance our natural contours and elevate the way we look. With dermal fillers, it's possible to rejuvenate or refine your appearance in a matter of minutes, all without surgery.
Board-certified plastic surgeon Dr. Jeffrey J. Roth personally administers injections of JUVÉDERM®, Restylane®, Sculptra® Aesthetic, and other dermal fillers at his Las Vegas, NV, plastic surgery practice.
What Are Dermal Fillers?
Dermal fillers are injectable substances that add volume just below the skin. They offer a nonsurgical and minimally invasive way to minimize wrinkles, folds, and lost volume. Along with BOTOX® Cosmetic, they are among today's most popular nonsurgical facial rejuvenation treatments for both men and women.
How Much Do Dermal Fillers Cost in Las Vegas?
At our Las Vegas plastic surgery practice, the cost of dermal fillers varies depending on the type of filler used and the amount injected. Fillers are typically priced per syringe, and the number of syringes needed to create ideal results is different from person to person. As part of your consultation, we will provide a personalized pricing estimate to give you an idea of your expected costs.
Why Choose Dr. Roth for Your Dermal Fillers?
As a board-certified plastic surgeon, Dr. Roth is uniquely qualified to administer dermal fillers. His training gives him intimate knowledge of the anatomy of the face and an experienced eye for creating natural-looking results. Beyond his expertise, people trust him for his honest and unhurried approach to patient education and care.
Meet

Dr. Roth

Dr. Jeffrey Roth is a board-certified plastic surgeon and a Las Vegas local since 1977. Drawn to medicine by his innate desire to help others, he provides exceptionally natural-looking results, concierge-level service, and long-lasting connections to every person who walks through the doors of his practice, Las Vegas Plastic Surgery.

Get to Know Dr. Roth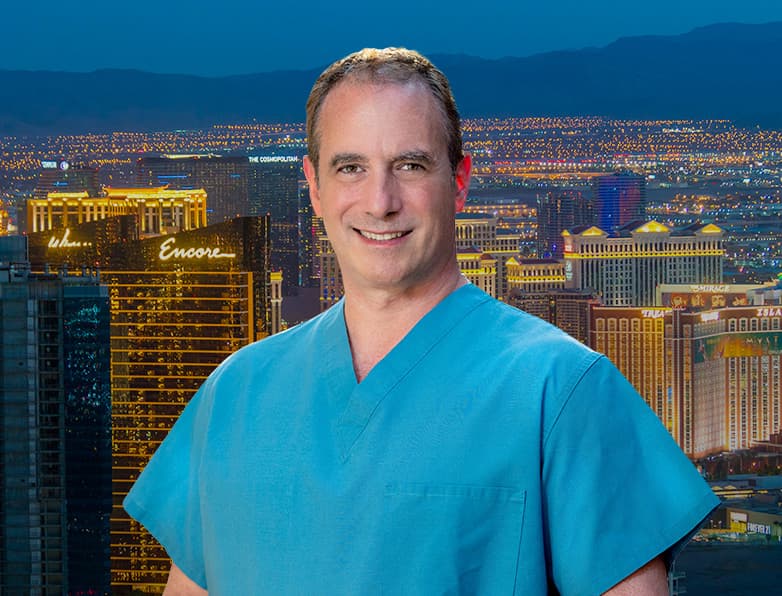 Credentials You Can Trust:


What Is JUVÉDERM?
JUVÉDERM is an injectable hyaluronic acid (HA) filler that treats moderate to severe facial wrinkles and folds. It comes in 2 formulations: JUVÉDERM Ultra, a versatile formulation for contouring and rejuvenation, and JUVÉDERM Ultra Plus, which corrects deeper wrinkles and enhances contours.
What Does JUVÉDERM Treat?
Dr. Roth most commonly uses JUVÉDERM to treat:
Nasolabial folds
Smile lines
Marionette lines
Thin lips
Vertical lip lines
How Long Do JUVÉDERM Results Last?
JUVÉDERM results typically last between 6 and 12 months.
What Is JUVÉDERM VOLUMA XC?
VOLUMA is an injectable HA filler specifically made to restore age-related volume loss in the cheeks. Its thicker structure makes it ideal for areas that need a more significant volume increase.
What Does JUVÉDERM VOLUMA XC Treat?
The most common VOLUMA treatments include:
Cheek augmentation
Chin augmentation
Jawline definition
How Long Do JUVÉDERM VOLUMA XC Results Last?
VOLUMA results typically last between 9 and 18 months.
What Is Restylane?
Restylane is another injectable HA filler Dr. Roth uses to treat signs of aging.
What Does Restylane Treat?
Restylane is typically used to treat:
Hollow tear troughs
Nasolabial folds
Marionette lines
Thin lips
Vertical lip lines
How Long Do Restylane Results Last?
Restylane results typically last between 6 and 12 months.
Reviews
Read what real people like you have shared about their experiences with Dr. Roth and his team.
Read Our Reviews
What Is RADIESSE®?
RADIESSE is a filler that contains calcium hydroxylapatite (CaHA) microspheres. This patented technology starts a process called collagenesis, stimulating your body to produce new collagen and encouraging collagen to grow in the injection area.
What Does RADIESSE Treat?
RADIESSE is popularly used to treat:
Aging hands
Smile lines
Marionette lines
Lack of jawline definition
How Long Do RADIESSE Results Last?
RADIESSE results can last as long as 1 to 2 years.
What Is Sculptra Aesthetic?
Sculptra is an injectable product that restores and corrects the signs of facial aging by replacing lost volume and enhancing skin thickness. It contains poly-L-lactic acid (PLLA), which stimulates natural collagen production. It typically requires a series of 3 to 6 treatments to see the best results, which gradually develop over a few months.
What Does Sculptra Treat?
Sculptra treats areas of the face and body that need more significant volume boost, such as the:
Cheeks and mid-face
Temples
Nasolabial folds
Marionette lines
It can also provide a nonsurgical butt lift for the right candidates.
How Long Do Sculptra Results Last?
Sculptra results typically last up to 2 years.
What Happens During a Dermal Filler Treatment?
During your dermal filler treatment, Dr. Roth will start by consulting with you about your aesthetic goals and your best options for achieving them. If he determines you're an ideal dermal filler candidate, he will often administer your treatment during that same appointment.
He'll start by cleansing your treatment area and marking the injection sites. He'll then use a small needle to place the filler just below your skin. Treatments usually take about 20 minutes.
What Is Nonsurgical Rhinoplasty?
A non surgical nose job uses the artful application of filler to temporarily improve the look of your nose. This approach can:
Refine the nasal tip
Build up a flat bridge
Camouflage bumps
Balance asymmetries
Create the illusion of a narrow bridge
Not all aesthetic concerns can be addressed with a non surgical nose job, and results are temporary, typically lasting 2 years or less. This can be a good option for individuals who aren't sure if they are ready for surgical rhinoplasty.
Do Dermal Filler Injections Hurt?
Filler injections create only minimal and temporary discomfort, which can be reduced by using a topical numbing cream if desired. Many fillers contain lidocaine, a numbing agent designed to keep you comfortable during your injections.
What Is Recovery Like After a Dermal Filler Treatment?
You can return to work or daily activities immediately after treatment. You may notice some swelling or redness around your injection sites, but this should resolve within a week. Applying ice packs and taking acetaminophen (Tylenol®) will minimize swelling and ease any soreness you may feel during the first few days.
Can I Dissolve My Dermal Fillers?
Hyaluronic acid fillers (JUVÉDERM and Restylane) are easily dissolved with an enzyme called hyaluronidase, which works in a matter of days. You can have these fillers dissolved at any time in the rare case you experience a complication or do not love your results.
A Few More Dermal Filler FAQs
Q: What is the difference between BOTOX and dermal fillers?
A: BOTOX treatments use very low doses of a natural purified protein injected into specific muscles to prevent contraction. The muscles remain relaxed and so do not cause a crease in the overlying skin.
Filler injections add fullness below the skin to contour a desired shape and minimize static wrinkles, folds, and some scars.
---
Q: Can I have BOTOX and filler treatments done at the same time?
A: Yes. It is safe and quite common to have both fillers and BOTOX injected in the same appointment. This is sometimes referred to as a "liquid facelift," an alternative to a surgical facelift.
---
Q: What are the possible dermal filler side effects?
A: Most side effects are mild and only last a week or so. The most common side effects include temporary injections site reactions such as redness, pain or tenderness, firmness, swelling, lumps or bumps, bruising, itching, and discoloration. As with all skin injection procedures, there is a small risk of infection.
---
Q: Can people with different skin tones or colors be treated with dermal fillers?
A: Yes. Dermal fillers are safe and effective for people of all skin tones.
---
Q: Are dermal fillers safe?
A: All of the dermal fillers Dr. Roth uses are FDA approved and clinically tested for safety. Filler injections are generally considered low-risk treatments. Many fillers are made with biocompatible substances that are identical to what's naturally found in the body, so there's virtually no risk of allergic reaction.
---
Q: Are the results from dermal fillers immediate?
A: Most fillers provide immediate results. The only exception is Sculptra. While you may see a mild volume increase from Sculptra initially, it takes a few months for full results to develop.
---
Q: When can I apply makeup after a dermal filler treatment?
A: You can apply makeup a few hours after treatment if no complications (such as open wounds or bleeding) are present.
---
Q: How long does lip filler last?
A: Lip fillers generally last between 6 and 12 months, depending on the product used. Your body naturally breaks down the product over time, causing a gradual decrease in volume. You can maintain your look by scheduling a maintenance treatment once or twice a year.
---
Q: How long does lip filler swelling last?
A: Swelling peaks around day 2 or 3 after lip filler injections and decreases from there. Most swelling typically subsides within a week, although it may take 2 weeks for the last bit of residual swelling to abate completely.
---
Q: Can you kiss right after getting lip filler?
A: It's best to wait at least 48 hours to do any kissing other than a light peck. For one, your lips will be swollen, tender, and potentially bruised. Beyond that, any pressure on your lips may cause the filler to move, compromising your results. You'll also have puncture wounds that are still healing, and any bacteria introduced to the area may put you at risk for an infection.
---
Q: How long does it take lip filler to settle?
A: It may take up to 4 weeks for your lip filler to settle completely. We recommend waiting a month or so to make any corrections to your look, as your results up to that point won't reflect your final outcome.
---
Q: Does getting lip filler hurt?
A: Discomfort levels vary depending on your tolerance, but we take several precautions to keep you comfortable. We use a topical anesthetic to numb the area and offer fillers that contain a numbing agent called lidocaine. Many people find acetaminophen (Tylenol) and ice are all they need to manage any soreness during and after their treatments.
---
Q: What is the best filler for under the eyes (tear troughs)?
A: Because this area is so delicate, it's best to use a soft, pliable, and reversible filler. Popular options include Restylane, JUVÉDERM VOLBELLA®, and JUVÉDERM VOLLURE®. Dr. Roth and his team will recommend the best selection for you after carefully assessing your anatomy, concerns, and goals during your consultation.
A New You Starts Now
If you would like to talk with Dr. Roth about whether dermal filler treatments are right for you, please request a consultation online or call (702) 450-0777 . We happily welcome dermal filler patients from Henderson, the greater Vegas area, and around the world.