Las Vegas Plastic Surgery: Jeffrey J. Roth M.D. F.A.C.S.
6140 S. Fort Apache Road, #100
Las Vegas, NV 89148
Phone: (702) 450-0777
Monday–Friday: 9 a.m.–5 p.m.

How To Compare Providers
You have many options when choosing a plastic surgery provider, particularly in Las Vegas. You may find the decision is easier to make when you follow a list of standard criteria for vetting surgeons. Dr. Jeffrey Roth is proud to provide state-of-the-art care in a safe, comfortable setting. Please contact our office to learn more about him.
Education, Training, & Experience
Any plastic surgeon you choose should possess education, training and experience. Dr. Roth's background includes:
General surgery residency, Medical College of Pennsylvania/Hahnemann University
Plastic surgery residency, University of California, San Francisco
Microsurgery and hand surgery fellowship, USC
After medical school, a doctor completes a plastic surgery residency, in order to become a plastic surgeon. It's possible they will focus on other specialties as their residency, such as facial surgery or reconstructive surgery. They may have additional fellowship training as well. The common denominator is that these doctors continue their education after medical school in order to become a specialist.
At a minimum, a surgeon should have an active state medical license and a degree from an accredited medical school. But you also want to look for someone who spent several years training in general surgery and plastic surgery. You may want to look for a seasoned plastic surgeon like Dr. Roth, who has been performing these procedures for many years.
Find out where the procedure will be performed, which should be a hospital or an accredited surgical center. You should also find out who will be providing the anesthesia, whether that's an anesthesiologist or nurse anesthetist.
Board Certification
Board certification is an additional, voluntary process a medical professional may choose to complete. While all surgeons must have a medical license to practice, board certification is pursued by choice in order to demonstrate expertise and experience in a specialty.
Dr. Roth possesses three distinct board certifications:
American Board of Plastic Surgery
American Board of Surgery
National Board of Medical Examiners
Each board has slightly different certification processes. All are rigorous, including written and oral examinations by a panel of experts. The American Board of Plastic Surgery certification requires at least six years of surgical training, with at least two to three of those years focused in plastic surgery. The ABPS also requires the surgeon to pass a written and oral exam, and to demonstrate their expertise in the field. Choosing a board-certified plastic surgeon like Dr. Roth is a good way to choose a surgeon who has gone above and beyond to certify their skill, experience and dedication to their patients.
Meet

Dr. Roth

Dr. Jeffrey Roth is a board-certified plastic surgeon and a Las Vegas local since 1977. Drawn to medicine by his innate desire to help others, he provides exceptionally natural-looking results, concierge-level service, and long-lasting connections to every person who walks through the doors of his practice, Las Vegas Plastic Surgery.

Get to Know Dr. Roth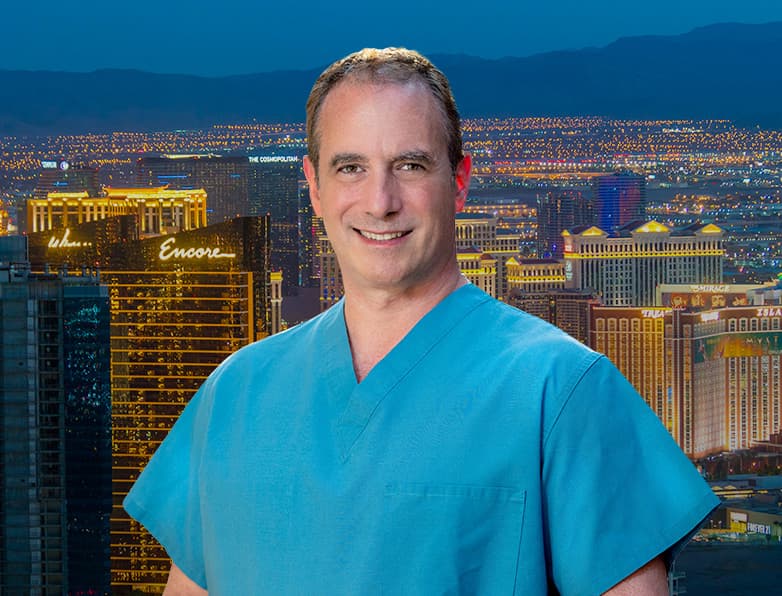 Credentials You Can Trust:


Results, Reviews, & Testimonials
Evaluating a plastic surgeon's results is another important part of comparing surgeons. Presumably, the more experience a plastic surgeon has, the more patient cases and patient reviews the surgeon has. These patient testimonials are an excellent resource: You are getting first-hand information from people who have already been treated by the surgeon. Sources include:
Yelp
Google reviews
Facebook reviews
Testimonials on the client's website
Reviews are like references as you search for a great plastic surgeon.
In addition to testimonials, experience in the specific procedure is important. Some plastic surgeons end up focusing on a few plastic surgeries, while others perform a broader array. Your plastic surgeon should have experience in the specific surgery you are seeking. That way, he or she will be better prepared to handle all aspects of the procedure.
Reviews
Read what real people like you have shared about their experiences with Dr. Roth and his team.
Read Our Reviews
Communication, Manner, & Friendliness
Part of choosing a plastic surgeon is finding someone who you are comfortable with. In speaking with the plastic surgeon, you should have a certain gut-level instinct about him or her. Does the surgeon encourage you to ask all the questions you have? Do they respond open and honestly to any concerns you have? Do you feel good talking to them?
The doctor should also ask you lots of questions about your goals, your health and your concerns. You should feel like the lines of communication are wide open. While it is of course important to discuss the benefits of the procedure you are considering, the plastic surgeon should not gloss over the possibility of complications. You must be properly informed of such risks in order to make a decision about plastic surgery.
You and your plastic surgeon are forming a partnership. Through this partnership, you are entrusting the doctor with your safety, well-being and physical appearance. Your choice of surgeon is an important one.
Contact Our Office to Learn More About Dr. Roth
Dr. Roth and our entire practice want you to find the plastic surgeon who is right for you! Dr. Roth possesses skills, experience and a personal commitment to your best results. Please call us at (702) 450-0777 or request a consultation with our experienced Las Vegas surgeon.