Las Vegas Plastic Surgery: Jeffrey J. Roth M.D. F.A.C.S.
6140 S. Fort Apache Road, #100
Las Vegas, NV 89148
Phone: (702) 450-0777
Monday–Friday: 9 a.m.–5 p.m.

At some point, we all experience the effects of facial aging, such as loose skin, inelastic tissue, and displaced fat. If you think you look older than you feel when you see yourself in the mirror or in photos, a facelift can be an effective way to turn back the clock. Board-certified plastic surgeon Dr. Jeffrey Roth is trained and experienced in today's facelift techniques to give his Las Vegas, NV, patients beautiful, natural-looking results.
What Is a Facelift?
A facelift is a facial plastic surgery procedure that provides comprehensive and long-lasting rejuvenation of the lower 2/3 of the face. Dr. Roth often combines a full facelift with neck lift surgery to produce a continuous result so that the face and neck look equally rejuvenated.
Who Is an Ideal Candidate for a Facelift?
Also called rhytidectomy, facelift surgery is a good match for Nevada women and men who are bothered by:
Loose skin and deep wrinkles on the cheeks
Jowling and fat deposits along the jawline
Sagging skin on the neck
Vertical neck banding
Meet

Dr. Roth

Dr. Jeffrey Roth is a board-certified plastic surgeon and a Las Vegas local since 1977. Drawn to medicine by his innate desire to help others, he provides exceptionally natural-looking results, concierge-level service, and long-lasting connections to every person who walks through the doors of his practice, Las Vegas Plastic Surgery.

Get to Know Dr. Roth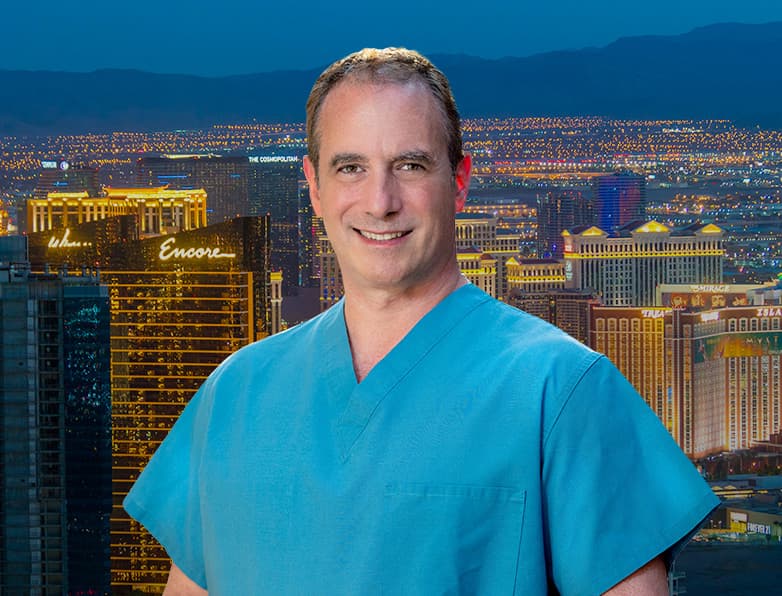 Credentials You Can Trust:


What Is the Best Age to Have a Facelift?
There actually isn't a right or wrong age for a facelift. It's really a question of when a facelift is right for you as an individual based on:
The facial changes you are noticing and want to improve
The improvements you want to attain
Your desire to pursue a surgical option versus non-surgical treatment
Your health, medical history, and other factors related to surgical candidacy
Most facelift patients are age 55 and up according to the American Society of Plastic Surgeons. People age 40 to 54 make up the next largest group, with younger patients making up a very small portion.
For years Dr. Roth has been guiding women and men in Las Vegas as they make decisions about their appearance. You'll discuss what changes you want to make so that Dr. Roth can determine the surgical and non-surgical options capable of achieving those outcomes. Trust his years of experience to guide you as you decide whether now is the time for your facelift.
What About the Upper Third of the Face?
The muscles and connective tissue of the forehead, brow, and eye area are distinct from the lower and mid-face. While facelifts concentrate on the lower 2/3 of the face, Dr. Roth will suggest other procedures for rejuvenation of the upper face, if that is part of your goal. Options include:
Eyelid surgery, also called blepharoplasty, corrects sagging upper eyelids, as well as wrinkled and puffy lower lids.
Brow lift surgery addresses horizontal lines across the forehead and a heavy brow that weighs down the upper eyelids, causing an aged, tired appearance.
Oftentimes, a procedure to rejuvenate the forehead or eyelids can be combined with a facelift. They can also be performed alone if you do not need a facelift.
Reviews
Read what real people like you have shared about their experiences with Dr. Roth and his team.
Read Our Reviews
Facelift Consultation
During your private consultation with Dr. Roth, he will listen to your concerns and goals. He will then gather a thorough medical history. Past medical events may impact your surgery, anesthesia, and recovery. Current issues will be reviewed, including medications, herbal remedies, allergies, smoking, drug use, and bleeding and scarring tendencies. Chronic issues, such as diabetes, high blood pressure, and autoimmune disease, are also important.
Dr. Roth will also examine your facial features and explain what he sees and how it relates to aging's effects on your appearance. He will then explain what might be done to improve each area medically or surgically. You may not wish to take advantage of every available rejuvenation treatment, but at least you can know about available options and what each might offer.
How Do I Get the Best Results From a Face Lift?
Many things can affect the success of the procedure, the subsequent healing process, and the final result. Clearly, issues affecting your general health and ability to heal can impact the process, but more subtle issues and practices can also make a significant impact.
Patients undergo a general physical examination prior to their surgery. This is to ensure that no underlying medical problems exist that may interfere with the safety of their surgery. The anesthesiologist may have specific criteria to be met. Appropriate consultation (such as cardiology, pulmonary, etc.) may be requested to address any issues. Any issues, however trivial they may seem, should be reported. For example, a seemingly innocent minor infection can result in a surgical wound infection and must be treated prior to surgery.
Medications and other substances that could potentially cause surgical complications must be discontinued at least two weeks prior to the procedure. For this reason, a list of current medications will be reviewed before surgery.
Hypertension must be under control. Blood pressure medicines are typically taken right up to the time of your procedure.
Cigarette smoking has a significant impact on wound healing. Some procedures will not even be performed on those who smoke. The extent of some procedures may be significantly curtailed. Cigarette smoking needs to be discontinued prior to operation. Serious wound-healing complications can occur in patients who are exposed to smoke, even passively. The risk of wound healing problems decreases after one quits. Appropriate timing of surgery after cessation of tobacco exposure can be discussed.
You will be asked to sign a surgical consent, which enumerates the procedure's risks in detail. Some of these risks have been reviewed here but are also discussed at the consultation.
Preparing for Your Facelift
Expect to take care of the following before surgery:
Have preoperative photographs taken to assist in the planning of the procedure and in reviewing the improvement afterward. Postoperative photographs are generally taken at 3 and 6 months after your procedure as well.
Get your prescriptions (e.g., pain pills) filled so that you will be able to take them when you return home from surgery.
Arrange for someone to drive you to and from the surgery center. Patients cannot drive after surgery and for 10 days afterward. Recently sedated patients will not be placed into taxis for transport home. Medical transportation can be arranged in the event that you cannot find an escort. It is also mandatory to have someone stay with you for at least 24 hours after surgery for your comfort and safety.
How Is Facelift Surgery Performed?
After arrival at the surgicenter, the nursing staff will register you and have you change into the appropriate gown. Incisions are marked prior to taking you to the operating room. Your hair is gathered in rubber bands to keep it out of the incision lines. Minimal amounts of hair may be clipped to make the surgical area accessible to Dr. Roth. The choice of anesthetic will be made with input from the patient, surgeon, and anesthesiologist. Continuous monitoring of your vital signs is carried out throughout the operation.
Facelift surgery usually takes about 6 hours to complete, depending on the extent of your particular anatomy, tissues, and procedure. Dr. Roth places incisions around the ear extending into the hairline and just beneath the chin if he needs to work on the anterior neck muscles.
Typically, the skin is tightened, as well as a layer of muscle and fascia that lies underneath. The muscle layer is used as the strength layer. The excess skin is trimmed to fit. Fat pads may be placed in position and secured. The incisions are closed with fine sutures, and small disposable metal clips may be used to close scalp portions of the incision.
A small drainage tube may be placed and connected to a suction bulb to drain any small amounts of blood or fluid. The drain is typically removed after 24 to 48 hours. A bulky dressing is applied over the surgical area. Appropriate arrangements will be made so that you'll be observed for the first night after the procedure.
What to Expect
Bringing your best look to life is as easy as 1-2-3.
Facelift FAQs
Q: How long does a facelift usually last?
A: Depending on the patient's age, health, smoking history, skin type, and extent of surgery, a facelift should last 5 to 10 years. Even 10 years after the initial facelift, you will look younger than you would have otherwise—but you can't put a stop to aging completely.
---
Q: Will a facelift help if I have a lot of facial wrinkles?
A: A facelift itself is not entirely effective against very fine facial lines. In addition to a facelift, you might need skin resurfacing and/or dermal filler injections. An appropriate skin health program may also be helpful.
---
Q: Do men commonly get facelifts, and are there any special concerns?
A: Yes. The number of men getting facelifts is rising rapidly. A man's face has more blood vessels than a woman's (due to the male beard), so there can be a higher incidence of postoperative bleeding. However, this is usually not a problem.
---
Q: Will I have scars after a facelift?
A: Facelift scars are hidden along natural creases near the ears and the hairline so they don't naturally draw the eye. Once healed, they fade to thin, barely visible lines.
---
Q: When can I sleep on my side after a facelift?
A: You can sleep on your side 2 to 3 weeks after a facelift. Up until that point, you should sleep on your back with your head elevated to minimize swelling and avoid putting any pressure on your healing incisions.
---
Q: How many facelifts can you get?
A: There is no set limit to how many facelifts you can get. However, it's unlikely you will need more than a couple of facelifts in your lifetime. These procedures have long-lasting effects and don't typically warrant repeating more than every decade or so.
Take the Next Step Toward Facial Rejuvenation
We make sure you are armed with the right information. Request a consultation online today or call us at (702) 450-0777 to learn more about facelifts in Las Vegas. We are happy to answer questions on the phone and tell you more about us.