Las Vegas Plastic Surgery: Jeffrey J. Roth M.D. F.A.C.S.
6140 S. Fort Apache Road, #100
Las Vegas, NV 89148
Phone: (702) 450-0777
Monday–Friday: 9 a.m.–5 p.m.

Get Reacquainted With Your Abs
Excess tummy skin and fat can be frustrating, often persisting no matter how actively you pursue diet and weight loss. Board-certified plastic surgeon Dr. Jeffrey J. Roth performs tummy tuck surgery (abdominoplasty) in Las Vegas, NV, to tighten loose skin, remove excess fat, repair stretched abdominal muscles, and create the flat, firm abdomen you have been dreaming of.
Featured Tummy Tuck Before & After Photos
WARNING:
This feature contains nudity. Please click OK to confirm you are at least 18 years of age and are not offended by such material.
What Is a Tummy Tuck?
A tummy tuck is a surgical body contouring procedure that produces a sleeker, smoother tummy. Many abdominoplasty recipients feel more confident about their bodies following the procedure.
Often, the skin laxity and stubborn fat a tummy tuck treats are associated with:
Pregnancy
Weight loss
Aging
Genetics and natural body type
It's important to note a tummy tuck is not a weight loss procedure but a cosmetic enhancement intended to complement a healthy lifestyle.
Who Is an Ideal Tummy Tuck Candidate?
Your weight should be stable at or near its ideal range for best results. Losing or gaining more weight after surgery will change the results. It is much better to look at a tummy tuck as putting the finishing touches on your efforts to tone your abdomen.
You MUST be under a BMI of 30 to be considered a candidate for a tummy tuck.
Meet

Dr. Roth

Dr. Jeffrey Roth is a board-certified plastic surgeon and a Las Vegas local since 1977. Drawn to medicine by his innate desire to help others, he provides exceptionally natural-looking results, concierge-level service, and long-lasting connections to every person who walks through the doors of his practice, Las Vegas Plastic Surgery.

Get to Know Dr. Roth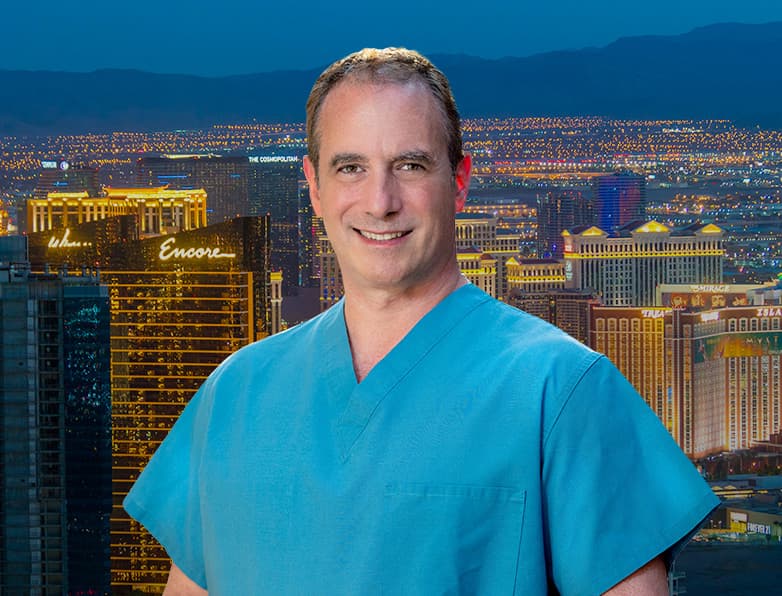 Credentials You Can Trust:


How Much Does a Tummy Tuck Cost in Las Vegas?
Because Dr. Roth customizes each procedure, the cost of a tummy tuck at our Las Vegas plastic surgery practice varies from person to person. During your consultation, we will provide you with a personalized pricing estimate that details your expected costs.
We happily accept payments through CareCredit®, a third-party financing company that offers affordable monthly payment plans.
Why Choose Dr. Roth for Your Tummy Tuck?
As a board-certified plastic surgeon with more than 20 years of experience in cosmetic surgery, Dr. Roth possesses the expertise and eye for aesthetics needed to safely create the natural-looking tummy tuck results you deserve. In addition to high-caliber care, he offers an intimate and humble approach centered around educating you and providing you with compassionate support from start to finish and beyond.
Reviews
Read what real people like you have shared about their experiences with Dr. Roth and his team.
Read Our Reviews
Mini vs. Full Tummy Tuck
An experienced plastic surgeon, Dr. Roth utilizes the right surgical technique for your body and objectives. One of the clearest distinctions to be made is between a mini and full tummy tuck:
A mini tummy tuck is confined to the small region immediately below the bellybutton. A relatively small incision is made across the pubic region.
A full (or "standard") tummy tuck is much more comprehensive, addressing tissues above and below the bellybutton. Incisions are made circularly around the navel and across the pubic region.
Dr. Roth will discuss both options with you during your consultation to determine the best approach.
Diastasis Recti Repair as Part of a Tummy Tuck
Most often affecting women who have been pregnant, diastasis recti is a condition in which stretched-out connective tissue allows the abdominal muscles to separate. It is a harmless condition, although it makes it difficult or impossible to achieve tautness and tone in the abdomen. It arises when the connective tissue thins and separates to allow the muscles to accommodate the growing baby. For some women, the condition naturally repairs itself in the year or so following childbirth. For others, the muscular spreading persists.
Because there is a gap in the central area of the belly muscles—right around the place where the belly button is—there may be a "pooch" or bulge caused by the lax tissue and muscle. You may notice the bulge all the time or when you try to flex those muscles. Many women feel the belly pooch makes it look like they are still pregnant even years after delivering. It can feel discouraging when no number of crunches will restore toned abs.
One of the great things about abdominoplasty is that it easily incorporates diastasis recti correction. In addition to removing fat and skin, Dr. Roth will place sutures in the connective tissue (fascia) overlying the abdominal muscles, which will pull the muscles back together and keep them there. The result is a firmer, flatter abdominal wall.
Tummy Tuck vs. Liposuction
Many individuals wonder if they can substitute liposuction for a tummy tuck. It's important to note that these procedures are not interchangeable and are recommended for different candidates.
The primary goal of a tummy tuck is to remove excess skin and fat from the abdomen and tighten the abdominal muscles to create a flatter and more toned appearance. Tummy tuck surgery is typically recommended for those with loose, sagging skin and separated abdominal muscles.
The primary goal of liposuction is to remove localized areas of fat from the body, including the abdomen, to improve body contour and reduce fat deposits. Liposuction is typically recommended for those with good skin elasticity and stubborn pockets of fat that are resistant to diet and exercise.
Should I Include Liposuction With My Tummy Tuck?
A tummy tuck may be combined with liposuction, and this combined approach may allow you to achieve the best possible results. Dr. Roth may perform liposuction in the belly area to reach areas of fat not included in the tummy tuck removal; alternatively, liposuction may be applied to an area such as the back or hips to create a cohesive result.
What to Expect
Bringing your best look to life is as easy as 1-2-3.
What To Expect During Tummy Tuck Recovery
You will need to have someone drive you home from the surgery center and stay with you the first couple of days after you go home. You will also need someone to drive you to your follow-up visits with the doctor, as you will not be able to drive for 10 days after your procedure.
Tummy Tuck Recovery Timeline
The recovery timeline for an abdominoplasty can vary depending on the individual patient, the extent of the surgery, and the technique used. The extent of your surgery may affect the length of recovery. The mini tummy tuck is not as extensive an operation, so recovery is usually significantly faster. However, here is a general timeline for what to expect during the recovery period:
Immediately after surgery: You will wake up in the recovery room with bandages and compression garments around your abdomen. You may experience some pain and discomfort, which can be managed with medication Dr. Roth prescribes.
First week: During the first week, you should rest and avoid any strenuous activity. You will need to take time off work and arrange for help with daily tasks. You will likely have a follow-up appointment with Dr. Roth during this time to assess your healing and remove the stitches around your bellybutton. You may shower after your dressings are removed 2 to 3 days after the procedure.
First month: By the end of the first month, we will have removed all sutures, and you may start to feel more comfortable and return to light activities. You should continue to wear compression garments to help with swelling and support your abdomen. You should avoid any heavy lifting or intense exercise during this time.
First 3-6 months: During this period, you can gradually resume your normal activities and exercise routine as advised by Dr. Roth. The swelling should continue to improve, and the incision scars will begin to fade. You may still need to wear compression garments during this time.
6-12 months: By the end of the first year, you should see the final results of your surgery. The swelling should be fully resolved, and the incision scars will continue to fade over time. It is important to maintain a healthy lifestyle and exercise regularly to maintain your results.
It is important to note that every patient's recovery timeline is unique, and you should always follow your surgeon's instructions for postoperative care to ensure a safe and successful recovery.
When Can I Return to Work & Exercise After a Tummy Tuck?
If your work is sedentary, Dr. Roth will probably clear you to return to work in a few weeks, knowing that you may be sore. After the first 2 weeks, you may resume moderate walks. We will examine you and determine increasing exercise after the sutures are removed. Sun exposure is discouraged for at least the first few months.
Your Tummy Tuck Compression Garment
Because excess tissue will be taken from your abdomen, it will be difficult for you to completely "straighten up" for a few days. Tightness will progressively disappear. You must change your position and walk around the house every few hours. Your post-operative compression garment (elastic abdominal binder) will provide gentle pressure to reduce swelling and give you stability and support. Many patients wear the binder for several weeks, and some choose to wear it for several months. You should be able to gauge your comfort level.
What Will My Tummy Tuck Scars Look Like?
Scars for a full tummy tuck run very low on the abdomen from hip bone to hip bone. You will also have a small scar circling your bellybutton, which Dr. Roth will make as inconspicuous as possible. A mini tummy tuck involves only a short scar placed very low on the abdomen. In either case, incisions are typically well-hidden, even in swimwear. While they may appear pink and raised initially, they should fade to thin, light lines over the next few months.
A Few More Tummy Tuck FAQs
Q: Can I combine my tummy tuck with other procedures?
---
Q: How is a "pain pump" used in this procedure?
A: Dr. Roth uses Exparel, a long-lasting numbing medicine that is injected in the incision line and intramuscularly and that works on a time-release system to help his tummy tuck patients feel more comfortable post-procedure. The small catheters are placed into the surgical area while you're asleep. The reservoir is about the size of a baseball, and it fits into a fanny pack. Patients typically take less pain medicine by mouth and generally are more mobile faster.
---
Q: Can you get pregnant after a tummy tuck?
A: Yes. A tummy tuck will not affect your ability to have a baby. However, it's typically best to wait until you are finished having children to move forward with a tummy tuck. This is because future pregnancies may cause additional skin stretching, abdominal muscle separation, and fat accumulation, compromising the results of your procedure.
---
Q: How many sizes can I lose with a tummy tuck?
A: It's difficult to predict how your clothing size will change after a tummy tuck. While some people find they go down several sizes, others may experience little to no change in their pants and dress size. Clothing size alone should not be the benchmark for the success of your procedure. Instead, Dr. Roth wants to focus on creating the tummy appearance you want by removing excess fat and skin. It is entirely possible that you will get the results of your dreams but more or less fit into the same clothes. It is highly individual.
---
Q: When can you lay flat after a tummy tuck?
A: In most cases, you can sleep flat on your back about 4 weeks after a tummy tuck. If you feel any strain on your incisions when you do, wait a bit longer. It's best to wait 6 weeks or more before lying on your stomach.
---
Q: Is a tummy tuck worth it?
A: Only you can determine whether a tummy tuck is worth it for you. However, our former patients would be quick to respond with a resounding "yes." After the surgery, most people find the tauter abdomen, repaired muscles, and newfound sense of confidence are well worth the investment. Dr. Roth will discuss your unique circumstances with you in-depth during the consultation process to make sure the procedure is the right next step for you.
---
Q: What is an extended tummy tuck?
A: An extended tummy tuck is a tummy tuck variation that continues the corrections farther across the abdomen and hips, allowing for more extensive skin removal and muscle repair. This is a popular option for people who have achieved major weight loss and have significant amounts of skin to remove.
---
Q: How long does a tummy tuck last?
A: Tummy tucks offer long-lasting results and create improvements that last for many years to come. As you age, it's natural to develop a bit of laxity in the abdomen. However, as long as you maintain a stable weight, you should enjoy your results long into the future.
---
Q: How long does swelling last after a tummy tuck?
A: Swelling is typically at its highest level for the first 3 to 6 weeks after a tummy tuck. After that, it subsides considerably. However, it is normal for some residual swelling to last up to a year.
A New You Starts Now
If you are interested in a tummy tuck, please request a consultation online or call (702) 450-0777 . We welcome tummy tuck patients from Henderson, the greater Vegas area, and around the world.