Las Vegas Plastic Surgery: Jeffrey J. Roth M.D. F.A.C.S.
6140 S. Fort Apache Road, #100
Las Vegas, NV 89148
Phone: (702) 450-0777
Monday–Friday: 9 a.m.–5 p.m.

Our earlobes are one of the features of the body that merits little or no attention…unless they call attention to themselves by being overly large. This can happen as a result of aging. It's not because our ears continue growing (that's an old wives' tale); it's because our ears are made of cartilage and, while the cartilage does indeed stop growing, it is made of collagen and other fibers that begin to break down as we age. Our earlobes sag thanks to the constant pull of gravity and they lengthen. Heavy earrings can also add to the stretching.
If you feel your earlobes now attract more attention than they deserve, Dr. Roth performs earlobe reduction surgery.
Who Is a Good Candidate for Earlobe Reduction?
Some feel their earlobes are longer than they should be. Some have an issue with their shape. One still needs to be evaluated to see if they are an appropriate candidate. You and the doctor will discuss your goals and together come up with a plan.
What Are the Benefits of Earlobe Reduction?
If you feel your earlobes are oversized, that can be a source of dissatisfaction with your overall appearance, (also having large earlobes can be a bother when choosing earrings, as you may not want to draw attention to your earlobes).
Just as with otoplasty (ear reshaping surgery), which is typically to bring protruding ears closer to the head, if you feel your ears are distracting from the rest of your facial appearance, this may be the answer. Most patients are quite happy after their earlobe reduction procedure.
These are simple procedures without much recovery, and they can give your self-confidence a boost.
Meet

Dr. Roth

Dr. Jeffrey Roth is a board-certified plastic surgeon and a Las Vegas local since 1977. Drawn to medicine by his innate desire to help others, he provides exceptionally natural-looking results, concierge-level service, and long-lasting connections to every person who walks through the doors of his practice, Las Vegas Plastic Surgery.

Get to Know Dr. Roth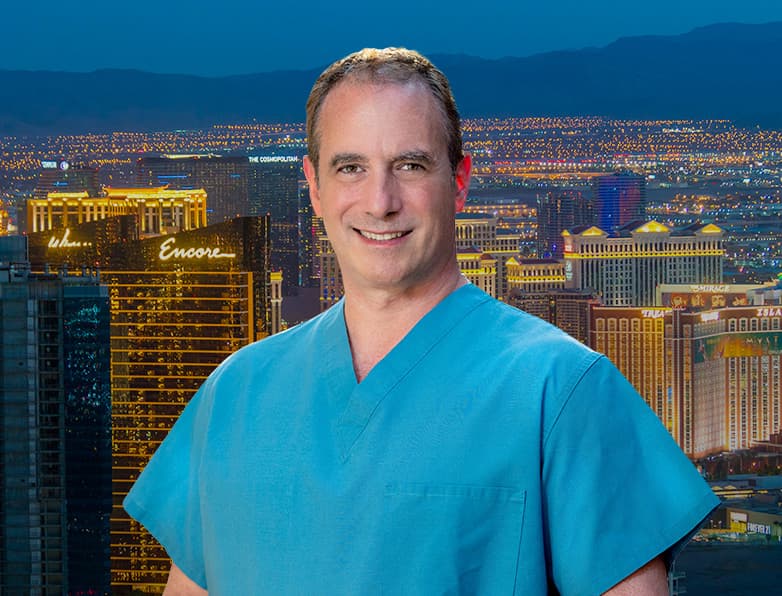 Credentials You Can Trust:


What Is the Earlobe Reduction Procedure?
The goal of earlobe reduction is to correct large, pendulous earlobes to create a more balanced size of your overall ears. There are a few different approaches. Each procedure should be tailored to the individual patient. Typically, these are outpatient procedures some under local anesthesia in our office They generally take 30 minutes per ear.
In a wedge reduction, he marks the earlobe with a geometric wedge that he then removes. The incisions are then brought together and closed with sutures.
In a peripheral margin reduction technique, he marks the outer edge of the earlobe to the new desired length, and then he excises the area below his marked line. Sutures then close the bottom incision.
Reviews
Read what real people like you have shared about their experiences with Dr. Roth and his team.
Read Our Reviews
What Results Can Be Achieved With Earlobe Reduction?
These procedures are quick, outpatient procedures that bring the ears into balance by removing excess earlobe skin. They can make the ears more attractive and give the patient a boost in self-confidence.
What to Expect
Bringing your best look to life is as easy as 1-2-3.
What Is Recovery Like After Earlobe Reduction?
Earlobe reduction surgery usually heals without much discomfort. Keeping the head elevated for a few nights is recommended. Patients should refrain from rigorous exercise, wearing helmets and playing contact sports until the incision is stable. We will go over the post procedure instructions, and answer any questions that you may have.
You'll have some soreness, but it is easily managed with oral pain medications. You will have some swelling and bruising that can take up to 10 days to fully resolve. Dr. Roth will remove your sutures in 5-7 days. Until your sutures are removed, you cannot sleep on your ears, so you'll need to place pillows to keep from rolling onto your side.
You can return to low-key office work in just a day or two, but you will have bandages on your ears. You should not pierce your new smaller earlobes for at least three months following your surgery.
You should not pierce your new smaller earlobes for at least 6 weeks following your surgery.
How Painful Is Earlobe Reduction Surgery?
Local anesthesia is used, so typically patients do not feel pain during the procedure. There is some incisional discomfort for a few days. It is usually well tolerated.
Schedule Your Consultation Today
If you're interested in learning more about earlobe reduction surgery please request a consultation online or call us at (702) 450-0777 . We will discuss your needs and concerns, and determine your best course of action.