Las Vegas Plastic Surgery: Jeffrey J. Roth M.D. F.A.C.S.
6140 S. Fort Apache Road, #100
Las Vegas, NV 89148
Phone: (702) 450-0777
Monday–Friday: 9 a.m.–5 p.m.

A Refreshed Look in Minutes
In your 20s, baby-smooth skin is the norm. But as the years pass, expression lines become more exaggerated. BOTOX injections at our Las Vegas practice safely and effectively relax the activity that causes these facial creases.
It only takes a few quick injections to renew your confidence and give your face a fresh start. Video chats, face-to-face meetings, social and personal interactions, and photos are all yours to enjoy with smoother, younger-looking skin.
View Before & After Photos
What Is BOTOX & How Does It Work?
BOTOX is a type of injectable neurotoxin, or "neuromodulator." It softens fine lines caused by facial expressions over time. These "dynamic" wrinkles form when you smile, frown, squint, laugh, and knit your brow together. Your skin folds every time the muscles in your face contract. The repeated folding gets more pronounced as the years pass, and eventually, the lines remain even after you've relaxed your face.
BOTOX temporarily and harmlessly stops the contractions causing these wrinkles. The purified botulinum toxin A protein blocks nerve signals that prompt muscular contraction. Far from causing a frozen look, BOTOX in the hands of an experienced provider leads to a more youthful, natural-looking appearance.
What Does BOTOX Treat?
BOTOX is most commonly used to treat the following lines:
Vertical creases between the eyebrows (also called "glabellar lines" or "frown lines")
Crow's feet at the corners of the eyes
Horizontal lines across the forehead
Lines above the upper lip ("smoker's lines")
"Bunny lines" on the bridge of the nose
Other uses for BOTOX include:
Gummy smile treatment: Relaxing your upper lip keeps your gums from showing when you smile.
Jawline slimming: Injecting BOTOX into the masseter muscle slims a square jawline and may even relieve TMJ symptoms.
Hyperhidrosis: BOTOX deactivates sweat glands to relieve excessive sweating for months at a time.
BOTOX is also used medically to treat an overactive bladder, chronic migraines, and neck spasms.
Meet

Dr. Roth

Dr. Jeffrey Roth is a board-certified plastic surgeon and a Las Vegas local since 1977. Drawn to medicine by his innate desire to help others, he provides exceptionally natural-looking results, concierge-level service, and long-lasting connections to every person who walks through the doors of his practice, Las Vegas Plastic Surgery.

Get to Know Dr. Roth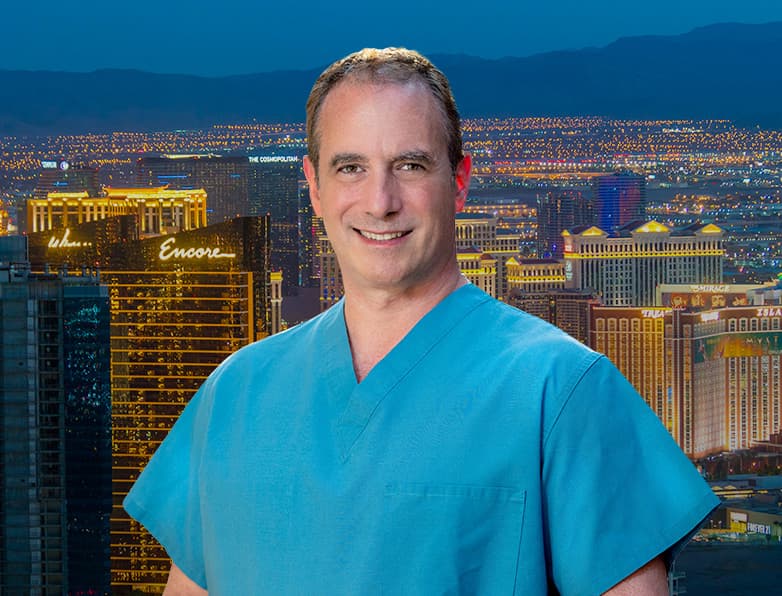 Credentials You Can Trust:


How Much Does BOTOX Cost?
At our Las Vegas practice, BOTOX is priced by the areas. The cost of your treatment will vary depending on how many areas you need treated to achieve your desired look. Dr. Roth will discuss your pricing with you during your private BOTOX consultation so there are no surprises.
Why Choose Dr. Roth for Your BOTOX Injections?
Las Vegas Plastic Surgery is an Allergan Black Diamond provider, which means we are in the top 1% of BOTOX practices nationwide. Board-certified plastic surgeon Dr. Jeffrey Roth personally performs all BOTOX injections to make sure you get results you love. He has extensive experience in aesthetics, but what many visitors remember him for is his down-to-earth demeanor and his commitment to providing exceptional service to every person he treats.
Reviews
Read what real people like you have shared about their experiences with Dr. Roth and his team.
Read Our Reviews
What To Expect at Your BOTOX Appointment
BOTOX appointments are quick and involve little to no discomfort. Dr. Roth starts by discussing your concerns with you and assessing the lines that appear when you form different expressions. He uses this information to map out your injection sites and design your customized treatment plan.
The injections themselves take only a few minutes. Dr. Roth administers a quick series of injections in and around your area of concern to minimize your wrinkles without making you look frozen or "worked on." The needle he uses is tiny, and while you may feel a slight pinch or mild sting, the discomfort goes away quickly.
What Is Recovery Like After a BOTOX Treatment?
You may experience redness, swelling, bruising, and tenderness at the injection site for a couple of days following your appointment. However, you shouldn't need to take any time away from work and your usual activities.
Don't touch, rub, or massage the injection sites for at least 6 hours, preferably 24 hours. Doing so could displace the product or interfere with healing skin. Plan to be up and about for 4 hours after your injections—or at least don't lie down flat. Lying horizontally may affect the way the BOTOX settles.
How Long Does It Take for BOTOX To Start Working?
The full effect of BOTOX takes some time to develop—about 3 to 7 days. It is generally best practice to get the injections 1 to 2 weeks before any big social events, such as weddings, reunions, parties, and so on. In most cases, 2 weeks allows plenty of time for the results to reach their maximum effect and bruising to disappear.
How Long Does BOTOX Last?
BOTOX results typically last about 3 to 4 months before the product naturally wears off. Another quick injection appointment will prolong your look once this occurs.
A Few More BOTOX FAQs
Q: What's the difference between BOTOX and dermal fillers?
A: Dermal fillers often work hand-in-hand with BOTOX when it comes to rejuvenating and contouring the face. While BOTOX treats dynamic wrinkles by disabling muscles, dermal fillers treat lines or folds by adding volume.
If you are looking to add fullness to your face or fill in creases (like nasolabial folds that run from the sides of your nose to the sides of your mouth), you may benefit from dermal filler injections. Many people combine BOTOX and fillers to address multiple signs of aging at once. This is sometimes called a nonsurgical facelift or "liquid facelift," a less invasive alternative for those not ready for facelift surgery.
---
Q: At what age should you start getting BOTOX?
A: There really isn't a wrong or right age. Instead, it depends on the type of wrinkles you have. Some people start getting BOTOX as early as their 20s to fend off the irritated, angry look of furrowing between the brows (frown lines). Other people don't come in for BOTOX until they notice a marked change in their facial appearance, in their mid to late 30s or later.
It's important to be realistic about what these injections can achieve. In your 40s, 50s, 60s, and older, deep-set folds caused by sagging, loose skin will not be treatable with BOTOX; these are not expression-caused wrinkles. Instead, a facelift or another procedure may be more effective for lifting and tightening sagging tissues.
---
Q: Does BOTOX make you look older after it wears off?
A: No. This is somewhat of a persistent myth. As the BOTOX fades, it simply unblocks the muscular activity that causes movement and contractions. That means wrinkles may gradually reappear at the same rate they did before.
Rather than making you age faster, BOTOX has been proven to slow the aging process with regular use. It reduces the amount of movement your skin is subjected to over time, delaying the onset of deep dynamic wrinkles.
A New You Starts Now
If you would like to learn more about what BOTOX can do for your look, please request a consultation online or call (702) 450-0777 . We perform BOTOX treatments for people from Henderson and throughout the greater Las Vegas area.