Las Vegas Plastic Surgery: Jeffrey J. Roth M.D. F.A.C.S.
6140 S. Fort Apache Road, #100
Las Vegas, NV 89148
Phone: (702) 450-0777
Monday–Friday: 9 a.m.–5 p.m.

Women who want fuller and more lifted breasts often opt for a combined breast lift and breast augmentation, also called a breast lift with implants. In Las Vegas, NV, board-certified plastic surgeon Dr. Jeffrey Roth frequently performs this combined procedure, often for women who have had children or lost weight and want to restore—or improve upon—their more youthful breasts. Keep reading to learn more about how this popular procedure can help you look and feel better than ever.
What Is a Breast Lift With Implants?
A breast lift with implants (mastopexy with augmentation mammoplasty) is a surgical technique designed to reshape and lift sagging, deflated breasts. The mastopexy procedure is combined with an implant (breast augmentation) to increase fullness or restore volume. Dr. Roth can also reduce the size of the areola if needed.
Am I a Candidate for a Breast Lift With Implants?
If you have sagging breasts and a loss of fullness in the top portion of your breasts, you are likely a candidate for the procedure. This is common for women who liked the fullness they had before or during pregnancy better than the drooping or flattened look they developed post-pregnancy. During your consultation, Dr. Roth will discuss other factors, including the condition of your breast skin, to determine whether you're a good candidate.
Meet

Dr. Roth

Dr. Jeffrey Roth is a board-certified plastic surgeon and a Las Vegas local since 1977. Drawn to medicine by his innate desire to help others, he provides exceptionally natural-looking results, concierge-level service, and long-lasting connections to every person who walks through his doors.

Get to Know Dr. Roth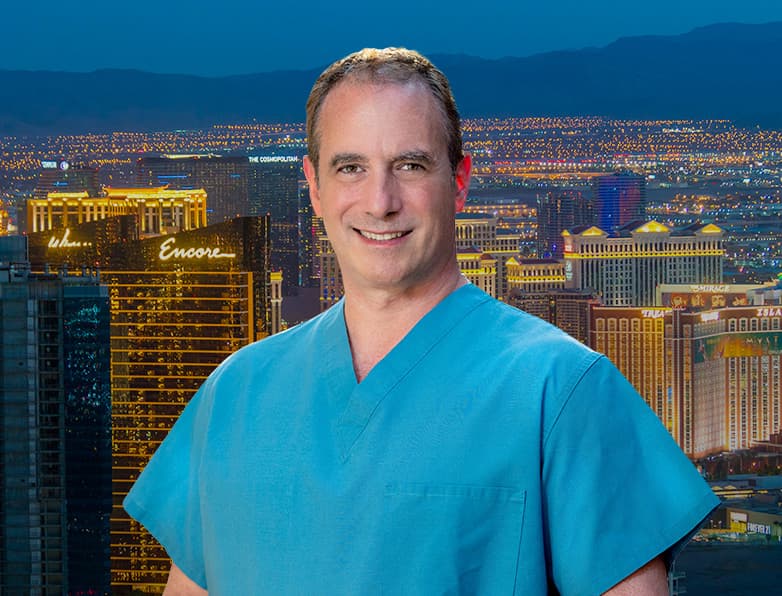 Credentials You Can Trust:


How Much Does a Breast Lift With Implants Cost in Las Vegas?
The cost of a breast lift with implants varies from person to person, depending on the type of implant used and other factors. We will provide you with a personalized cost estimate after discussing your goals in-depth at your consultation.
We work with several financing companies that offer affordable monthly payment plans to make the cost of your procedure that much more attainable.
What to Expect
Bringing your best look to life is as easy as 1-2-3.
Is It Safe To Perform a Breast Lift & Breast Augmentation at the Same Time?
Some women wonder whether both adding an implant and lifting the breast is too much surgery to do at the same time. Fortunately, this is not the case. We perform the combination breast lift with breast augmentation routinely. You must be an appropriate candidate and follow post-operative instructions to achieve the best results.
How Long Does a Breast Lift With Implants Last?
While results are typically long-lasting, it's important to note that some drooping will occur over time as part of the natural aging process. Most women find their implants last about 10 or 15 years before they need a breast revision to update or maintain their results.
Reviews
Read what real people like you have shared about their experiences with Dr. Roth and his team.
Read Our Reviews
What Is Recovery Like After a Breast Lift With Implants?
This surgery is an outpatient procedure, meaning you'll return home the same day. You will need to have someone drive you home from the surgery center and stay with you the first couple of days. You will also need someone to drive you to your follow-up visits with Dr. Roth, as you won't be able to drive for about 10 days. Most people return to work and daily activities after 3 weeks.
Any discomfort following a breast lift with implants is usually well-controlled with the prescribed pain medication. It's normal to experience some swelling and bruising for the first couple of weeks.
Your surgical bra will act as the "dressing" during your recovery, providing support for your breasts and implants while they heal. After 4 months, you may sleep without the bra. You may shower following your first post-operative visit.
A New You Starts Now
If you would like to start your plastic surgery journey with Dr. Roth, please request a consultation online or call (702) 450-0777 . We happily provide breast lift with implants consultations for women from throughout Henderson, the greater Las Vegas Area, and around the globe.