Las Vegas Plastic Surgery: Jeffrey J. Roth M.D. F.A.C.S.
6140 S. Fort Apache Road, #100
Las Vegas, NV 89148
Phone: (702) 450-0777
Monday–Friday: 9 a.m.–5 p.m.

BOTOX neurotoxin treatment helps control the symptoms of severe underarm sweating when topical medicines do not work well enough. BOTOX temporarily blocks the chemical signals from the nerves that stimulate the sweat glands. When the sweat glands don't receive those chemical signals, the severe sweating stops.
This has been a favorite treatment for years among stars in Hollywood and here on the Las Vegas strip. This swanky "secret" can be yours in a matter of minutes with the help of board-certified plastic surgeon Dr. Jeffrey Roth. Dr. Roth performs BOTOX for hyperhidrosis (excessive sweating) treatments for people throughout Las Vegas, Henderson, and across Nevada.
Meet

Dr. Roth

Dr. Jeffrey Roth is a board-certified plastic surgeon and a Las Vegas local since 1977. Drawn to medicine by his innate desire to help others, he provides exceptionally natural-looking results, concierge-level service, and long-lasting connections to every person who walks through the doors of his practice, Las Vegas Plastic Surgery.

Get to Know Dr. Roth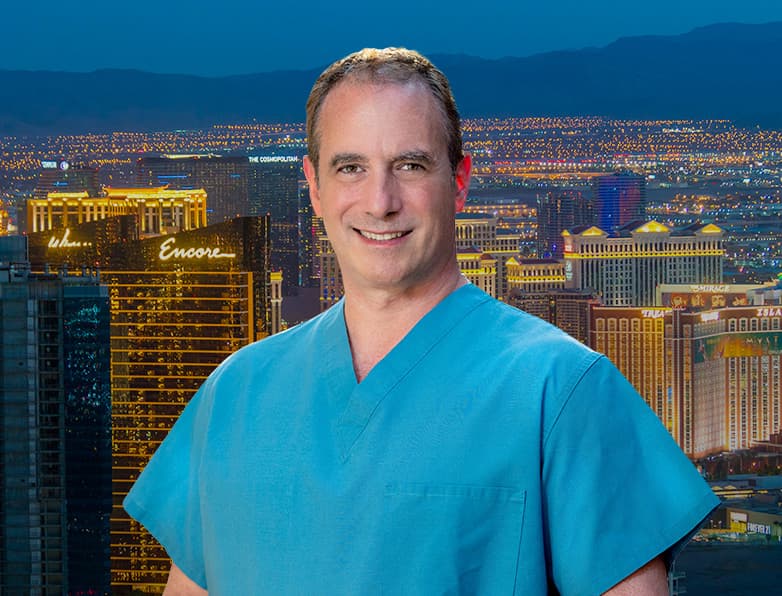 Credentials You Can Trust:


How Does BOTOX for Hyperhidrosis Work?
BOTOX is a neuromodulator that interrupts signals between your brain and specific receptors in your body. Many people know of BOTOX Cosmetic as a wrinkle treatment that works in much the same way, interrupting contractions in certain muscles responsible for creating dynamic wrinkles. When injected into the sweat glands, BOTOX stops the glands from sending sweat-producing signals to the brain. The result: reduced sweating and a welcome relief from hyperhidrosis.
Where Does the Sweat Go?
Your sweat doesn't go anywhere or get backed up because the sweat simply is not produced in the areas treated with BOTOX. Remember, BOTOX injections are expected to temporarily stop the production of excessive sweat in the treated areas only. Your body will continue to produce sweat elsewhere.
How Much Does BOTOX for Hyperhidrosis Cost?
The cost of BOTOX for hyperhidrosis at our Las Vegas practice varies depending on the number of units injected. Many people need about 50 units per underarm, but this may vary. After consulting with you about your needs, we will provide a personalized pricing estimate so you know what to expect.
Which Areas Can Be Treated With BOTOX for Hyperhidrosis?
BOTOX is FDA-approved to reduce sweating in the underarms. However, some injectors also use it "off-label" to treat the palms of the hands, soles of the feet, and face.
What Is It Like To Get BOTOX for Hyperhidrosis?
The treatment experience typically only takes a few minutes and involves little to no prep or post-treatment downtime. During the treatment, Dr. Roth will administer a series of injections directly into your treatment area. Most people say these injections feel like small pinches. Once your session is complete, you are free to return to work and your other usual daily activities.
How Long Does BOTOX Last for Hyperhidrosis?
BOTOX for hyperhidrosis typically lasts about 3 to 4 months. The product's effects will naturally wear off around that time, but you can extend your results with another treatment.
BOTOX for Hyperhidrosis FAQs
Q: Does insurance cover BOTOX for hyperhidrosis?
A: Most insurance companies will look into requests to cover BOTOX sweating treatments. However, typically only select cases are covered. You may be asked to prove that other hyperhidrosis treatments have been ineffective before your insurance will cover BOTOX.
---
Q: Is BOTOX for hyperhidrosis safe?
A: Yes, BOTOX is safe and FDA approved for treating excessive sweating in the underarms. Many studies have confirmed this, and the treatment has a long history of safety and effectiveness with minimal side effects.
---
Q: What are the side effects of BOTOX for hyperhidrosis?
A: The most common side effects include temporary redness, swelling, and bruising near the injection sites.
Schedule a Consultation With Our Office
For further information and answers to any questions you may have, please call our Las Vegas office at (702) 450-0777 or request a consultation online. We look forward to serving you.