Las Vegas Plastic Surgery: Jeffrey J. Roth M.D. F.A.C.S.
6140 S. Fort Apache Road, #100
Las Vegas, NV 89148
Phone: (702) 450-0777
Monday–Friday: 9 a.m.–5 p.m.

When your breast implants no longer give you the confidence boost they once provided, it may be time to think about breast augmentation revision. At our Las Vegas, NV, plastic surgery practice, board-certified plastic surgeon Dr. Jeffrey Roth performs implant revisions to give women a fresh start with bodies that reflect their current lifestyles and goals.
Here, you'll find all the information you need to plan your breast revision, including insight into whether the surgery is right for you, tips on what to expect during the process, and before-and-and after photos of successful cases similar to yours.
Featured Breast Augmentation Revision Before & After Photos
WARNING:
This feature contains nudity. Please click OK to confirm you are at least 18 years of age and are not offended by such material.
OK
Featured Breast Augmentation Revision Before & After Photos
Keep in mind that each patient is unique and your results may vary.
What Is Breast Augmentation Revision?
Breast augmentation and other plastic surgery procedures can culminate in less-than-optimal results, leading to dissatisfaction. This may be the product of complications during surgery or several different circumstances that can arise. In fact, you may have had a great result with which you were completely satisfied, only to see the result change over time because of aging or weight loss. Women often seek Dr. Roth for corrective plastic surgery to improve these results.
Common corrections made during breast augmentation revision include:
Updating implant size, placement, or material.
Replacing older implants with newer models.
Resolving complications such as implant rupture or capsular contracture.
Improving cosmetic results to create a more attractive and natural-looking outcome.
Meet

Dr. Roth

Dr. Jeffrey Roth is a board-certified plastic surgeon and a Las Vegas local since 1977. Drawn to medicine by his innate desire to help others, he provides exceptionally natural-looking results, concierge-level service, and long-lasting connections to every person who walks through his doors.

Get to Know Dr. Roth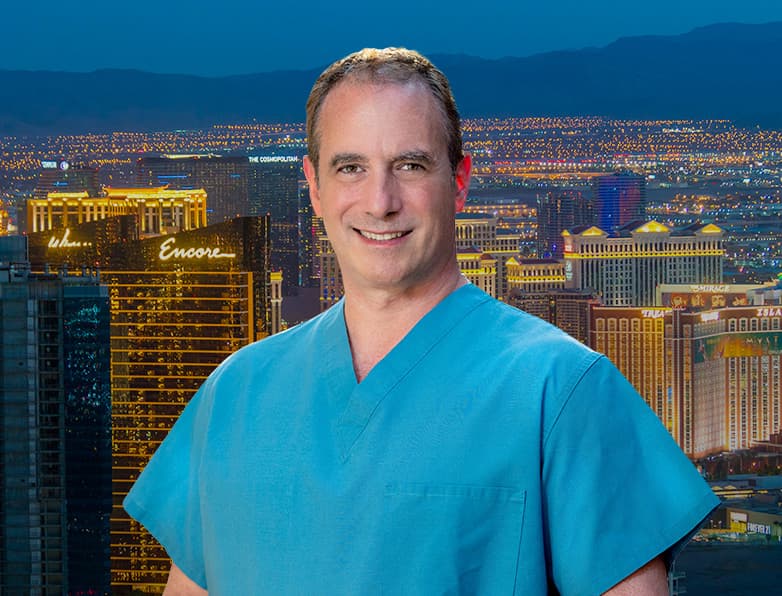 Credentials You Can Trust:


Who Is a Candidate for Breast Augmentation Revision?
Breast augmentation revision may be the right choice for you if you are experiencing any of the following:
Capsular contracture
Deflation of implant
Migration of implant
Soft tissue movement with time
Change of appearance of scars
You may also decide your implants no longer reflect your ideal look and that you are simply ready for a change.
What to Expect
Bringing your best look to life is as easy as 1-2-3.
How Soon Is Too Soon for Breast Revision?
It's generally important to wait until your initial results have fully taken shape before deciding on a revision. This typically takes about a year. After that, you can remove your implants, exchange them, or revise your results at any time.
Why Choose Dr. Roth for Your Breast Revision Surgery?
Revision surgery cases can be complicated and require a surgeon with vast knowledge and experience with secondary surgeries. Dr. Roth is well versed in revision surgery, as he performs many of these procedures each year. Women often seek him out to revise breast procedures such as augmentations and breast lifts. He also performs secondary procedures on every part of the body, including revisions of tummy tucks and other body contouring procedures.
Reviews
Read what real people like you have shared about their experiences with Dr. Roth and his team.
Read Our Reviews
What Is Recovery Like After Breast Augmentation Revision?
Healing directly following a surgical revision can take a few weeks. You'll likely experience some bruising or swelling, and possibly some discomfort. Most people can return to work within a few weeks.
Healing continues well past that initial stage of recovery into the next several weeks until the body is fully and properly healed. At this time, you can resume your usual workout routine, including strenuous exercise.
A New You Starts Now
Would you like to learn more about planning your Las Vegas breast revision with Dr. Roth? Please request a consultation online or call (702) 450-0777 to get started.