Las Vegas Plastic Surgery: Jeffrey J. Roth M.D. F.A.C.S.
6140 S. Fort Apache Road, #100
Las Vegas, NV 89148
Phone: (702) 450-0777
Monday–Friday: 9 a.m.–5 p.m.

A forehead lift (brow lift) resuspends the forehead, and can smooth and reduce lines and wrinkles. As one ages, the upper third of the face, (from above the upper eyelids to the hairline), can begin to descend.
Featured Brow Lift Before & After Photos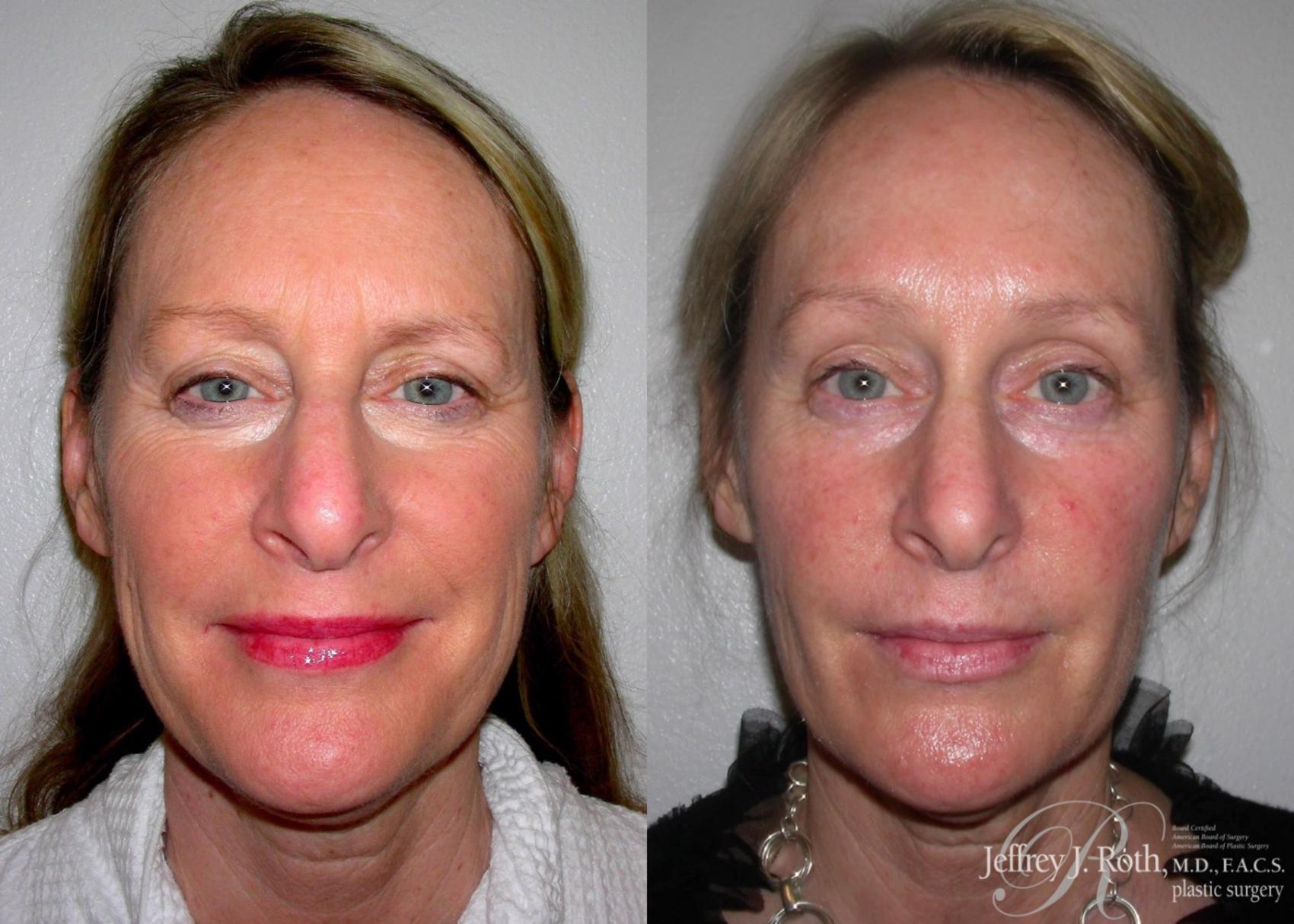 Keep in mind that each patient is unique and your results may vary.
What Happens During My Brow Lift Consultation?
Dr. Roth will evaluate you for the forehead lift. He needs to evaluate your entire face as well. One must consider the intricate balance of your individual facial features and how they relate to make up your face. In this case, extra attention will be taken to evaluate your hairline, and your hair treatment history, (permanent waves and bleaching can damage the follicle). Hair loss pattern should be evaluated as well.
During his examination, Dr. Roth evaluate the symmetry of your brows, the position of your brow with respect to your upper orbital bone, and how you move your forehead during conversation or interaction with others. Like any other paired entity on the body, people will often have asymmetrical eyebrows. This is often seen in expressive individuals. This cannot be corrected surgically, and should be appreciated prior to surgery.
Dr. Roth will discuss his findings and recommendations with you. Options will be discussed, and together you will make an appropriate choice to best achieve your ideals.
Meet

Dr. Roth

Dr. Jeffrey Roth is a board-certified plastic surgeon and a Las Vegas local since 1977. Drawn to medicine by his innate desire to help others, he provides exceptionally natural-looking results, concierge-level service, and long-lasting connections to every person who walks through the doors of his practice, Las Vegas Plastic Surgery.

Get to Know Dr. Roth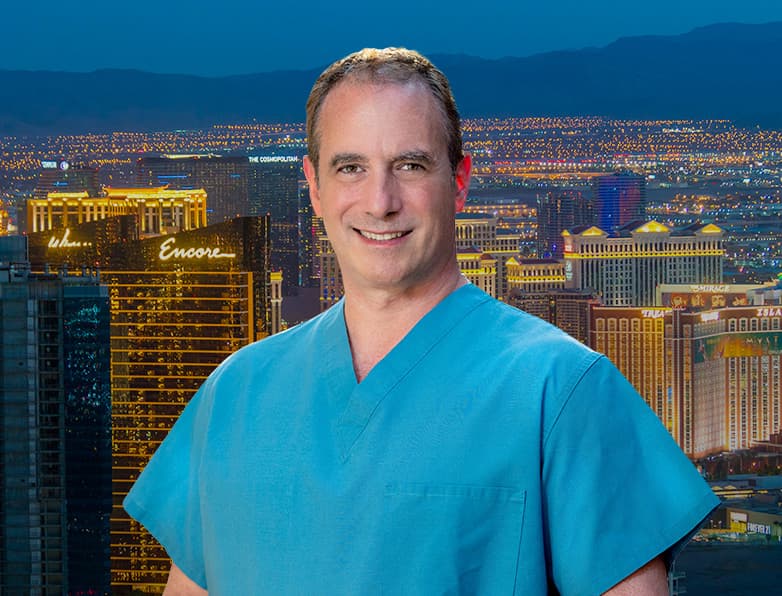 Credentials You Can Trust:


Before Your Forehead Lift
Many things can effect the success of the procedure, the subsequent healing process, and final result. Clearly, issues effecting your general health and ability to heal can impact the process, but more subtle issues and practices can also make a significant impact.. It is imperative that patients refrain from ingesting any medications or other substances that could potentially cause surgical complications. A list of medications should be reviewed and selected medications discontinued at least two weeks prior to the procedure.
Patients undergo a general physical examination prior to their surgery. This is to ensure that no underlying medical problems exist that may interfere with the safety of their surgery. The Anesthesiologist may have specific criteria to be met. Appropriate consultation, (Cardiology, Pulmonary, etc.) may be requested to address any issues. Any issues, however trivial they may seem, should be reported. For example, a seemingly innocent minor infection can result in a surgical wound infection, and so must be treated prior to surgery. Likewise, hypertension must be under control. Blood pressure medicines are typically taken right up to the time of your procedure. Cigarette smoking has a significant impact on wound healingand needs to be discontinued prior to the operation. Some procedures will not even be performed in those who smoke. The extent of some procedures may be significantly curtailed. Serious wound healing complications can occur in patients who are exposed to smoke, even passively. The risk of wound healing problems decreases after one quits. Appropriate timing of surgery after cessation of tobacco exposure can be discussed.
Preoperative photographs are taken. They assist in the planning of the procedure and in reviewing the improvement afterwards. Post operative photographs are generally taken at 3 and 6 months after your procedure as well.
You will be asked to sign a surgical consent, which enumerates the risks of the procedure in detail. Some of these risks have been reviewed here, but are also discussed at the consultation.
Appropriate prescriptions are written, (e.g. pain pills, so that you will be able to take them when you return home).
You will need to arrange for someone to drive you to and from the surgery center. Patients cannot drive after surgery, and for 10 days afterward.
Recently sedated patients will not be placed into taxis for transport home. Medical transportation can be arranged in the event that you cannot find someone. It is also mandatory to have someone stay with you for at least 24 hours after surgery, for your comfort and safety.
Reviews
Read what real people like you have shared about their experiences with Dr. Roth and his team.
Read Our Reviews
How Is a Brow Lift Performed?
After arrival at the surgicenter. The nursing staff will register you and have you change into the appropriate gown.
Incisions are marked prior to taking you to the operating room. Your hair is gathered in rubber bands to keep it out of the incision lines.
The choice of anesthetic will be made with input from the Patient, Surgeon and Anesthesiologist. Continuous monitoring of your vital signs is carried out throughout the operation.
There are different ways to reposition the forehead/brow. These are determined by the individual's anatomy, tissues, and goals.
The incision can be made across the hairline, or through a few smaller incisions placed to allow access for the instrumentation. The forehead is repositioned, and the muscles near the middle part of the eyebrows may be resected if appropriate. A dressing is applied . Appropriate arrangements will be made so that you'll be observed for the first few nights after the procedure.
What to Expect
Bringing your best look to life is as easy as 1-2-3.
What Is the Recovery From a Brow Lift?
Following the surgery the patient will have a dressing in place. Remember that any surgical procedure requires a certain period of recovery from the surgery and anesthetic. Individuals vary, but it is possible (and normal) to experience swelling and bruising. Makeup can be worn to cover visible areas of bruising.
You will need to have someone drive you home from the surgery center. You should also have someone stay with you the first couple of days after you go home. You will also need someone to drive you to your visits to the Doctor. Remember, no driving for 10 days after the procedure. You should maintain head elevation of at least 30 degrees from horizontal to keep the swelling down. Any discomfort following a forehead lift/brow lift, is usually controlled well with the prescribed pain medication. Ice packs may help both swelling and discomfort. The dressings usually are removed three days after surgery. You may shower after the dressings are removed in the office. Do not rub your hairline vigorously. The sutures are typically be removed from the incisions within 10-14 days.
Although you will be up and around in a day or two, you should plan to rest as much as possible for the first week. Do not do anything that requires straining or heavy exercise for at least 10-14 days. Likewise, you should avoid vigorous activity, including sex, for two weeks after surgery. Walking and stretching are encouraged. You should have someone walk with you for the first week, in case you get tired. You should avoid bending over for about three weeks, and avoid alcohol, steam baths, and saunas for four weeks after surgery. The forehead may be numb for weeks to months, and so heating pads and sun lamps are to be absolutely avoided. Sun exposure is discouraged for at least the first few months.
Everyone responds differently to an operation. It may take some time for the healing process to let you accurately appreciate the operation. Most patients appreciate their improved appearance in about one month. All of the swelling may not disappear for 6-12 months. With proper peri-operative care, you should be able to maximize the healing process and help to achieve your goals.
Brow Lift FAQs
Q: Does a brow lift affect the upper eyelids?
A: Crowding of the eyelids is caused by the brow/forehead migrating downward. This may be determined at the time of consultation. One may need a brow lift instead of a blepharoplasty. Some people need both.
---
Q: How is a brow lift done?
A: Most brow lifts today can be done with endoscopic instruments, (camera assisted surgery). This allows smaller scars and some say a faster healing time.
---
Q: How long does a brow lift last?
A: Although no procedure can stop the aging process entirely, brow lift results have the potential to be very long-lasting. Similar to a facelift, the procedure is known to turn back the clock by as much as a decade. You can maintain your results with regular BOTOX and dermal filler treatments.
---
Q: Does a brow lift help hooded eyes?
A: Yes, a brow lift can be a very effective treatment for hooded eyes. Lifting a drooping brow also subtly lifts the tissues above the eyes, helping to correct upper eyelid laxity and drooping. If you have significant hooding, you may want to combine your brow lift with eyelid surgery to remove excess skin and fat in the upper eyelids and create an even more open expression.
---
Q: Do I need a brow lift or blepharoplasty?
A: There's a simple test you can use for this. Looking straight ahead into a mirror, use your fingertips to gently pull the skin of your forehead upward. If most of your concerns disappear and you're happy with how you look, you're likely a brow lift candidate. If you still notice drooping or sagging in your upper lids, you likely need eyelid surgery instead or in addition.
Schedule Your Consultation Today!
Interested in learning more about brow lifts with Dr. Roth? Call (702) 450-0777 or request a consultation online today! Our practice serves Las Vegas, NV and all nearby areas.