Las Vegas Plastic Surgery: Jeffrey J. Roth M.D. F.A.C.S.
6140 S. Fort Apache Road, #100
Las Vegas, NV 89148
Phone: (702) 450-0777
Monday–Friday: 9 a.m.–5 p.m.

Learn everything you need to know about how male breast reduction surgery works, what to expect, what recovery is like, and more.
Gynecomastia (or as it's less delicately called, "man boobs") is a real concern for more than half of men. This condition can keep you from feeling fully confident in your body, despite your best efforts to stay in shape.
With gynecomastia correction surgery (male breast reduction) performed by Las Vegas, NV, board-certified plastic surgeon Dr. Jeffrey Roth, you can sculpt the flatter, more masculine chest you have always wanted.
View Before & After Photos
What Is Gynecomastia?
With gynecomastia, men develop excess breast tissue, leaving the male breasts large or uneven. While it usually doesn't have serious health implications, it may keep you from feeling confident when wearing tight-fitting clothes or going shirtless at the pool.
What Causes Gynecomastia?
Imbalanced hormones may play a large role in gynecomastia development. Often, higher estrogen levels and lower testosterone levels are to blame. Some medications and other factors may worsen these imbalances and trigger irregular breast development.
Meet

Dr. Roth

Dr. Jeffrey Roth is a board-certified plastic surgeon and a Las Vegas local since 1977. Drawn to medicine by his innate desire to help others, he provides exceptionally natural-looking results, concierge-level service, and long-lasting connections to every person who walks through the doors of his practice, Las Vegas Plastic Surgery.

Get to Know Dr. Roth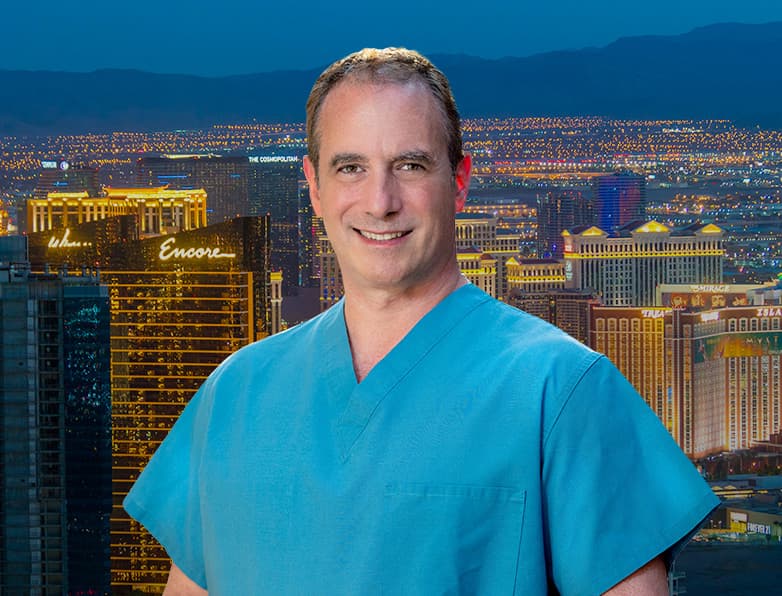 Credentials You Can Trust:


How Does Gynecomastia Correction Surgery Work?
Gynecomastia surgery is one of the most popular plastic surgery procedures for men. It creates a more sculpted, masculine-looking chest in 2 different ways:
Liposuction: Dr. Roth suctions out excess fat tissue using a thin tube called a cannula.
Excision: In this technique, Dr. Roth directly excises (cuts out) the excess breast tissue and fat.
Dr. Roth will recommend the right approach for you after your private consultation.
Why Choose Dr. Roth for Your Gynecomastia Correction Surgery?
In addition to extensive surgical expertise, Dr. Roth provides a supportive, down-to-earth environment and an experience that's tailored to you every step of the way. You'll always feel heard and attended to, from your first consultation to your final follow-up appointment.
Reviews
Read what real people like you have shared about their experiences with Dr. Roth and his team.
Read Our Reviews
How Much Does Gynecomastia Correction Surgery Cost?
At Las Vegas Plastic Surgery, the cost of gynecomastia correction surgery varies depending on the technique used, the complexity of the procedure, and other factors. The best way to get a personalized estimate is to schedule a one-on-one consultation with Dr. Roth.
How Long Does Gynecomastia Surgery Take?
The procedure typically takes about 2 to 3 hours to perform. It is done on an outpatient basis while you are under general anesthesia. You will return home in the care of a trusted loved one that same day.
What Is Recovery Like After Gynecomastia Surgery?
During the first 2 to 3 days, you'll likely feel groggy, sore, and swollen. Dr. Roth will prescribe pain medication to keep you comfortable. After about a week, most swelling and discomfort will subside, and you'll likely be able to return to desk work and other daily activities.
When Can I Exercise After Gynecomastia Surgery?
You can take short, light walks as early as the day after your surgery to keep your circulation flowing. At about the 3-week mark, Dr. Roth may clear you to begin gradually resuming more intense workouts. After 6 weeks, most people are back to their usual vigorous routines once again.
A New You Starts Now
If you would like to speak with Dr. Roth about your gynecomastia correction options, please request a consultation or call our office at (702) 450-0777 . We happily welcome gynecomastia patients from Henderson, the greater Las Vegas area, and around the world.