Las Vegas Plastic Surgery: Jeffrey J. Roth M.D. F.A.C.S.
6140 S. Fort Apache Road, #100
Las Vegas, NV 89148
Phone: (702) 450-0777
Monday–Friday: 9 a.m.–5 p.m.

Knowing what to expect before, during, and after your plastic surgery procedure at our Las Vegas, NV practice can make your experience that much more comfortable and rewarding. On this page, we've outlined what you'll experience each step of the way during your visit.
Step 1: Your Consultation
It all starts with your consultation, which is your opportunity to learn about all your plastic surgery options and what awaits you during your journey.
Discussing Your Goals
Every consultation begins with a discussion. Board-certified plastic surgeon Dr. Jeffrey Roth takes all the time needed to really listen to what you have to say. It is from this listening that he is able to provide you with individualized recommendations.
As part of your consultation, expect to:
Identify specific areas of your body you'd like to change
Discuss specific changes
See before-and-after photos
Determine whether your expectations align with the possible results
Browsing Dr. Roth's patient before-and-after photos, you will be able to see examples of what the procedure can achieve. Although your results will be unique, these photos give you an idea of what is possible so you can make sure your expectations are reasonable.
Some of our guests choose to bring images or photos of other people who have the physical traits they want to achieve. For example, maybe there is a certain celebrity whose curves you'd like to emulate. While these photos provide good discussion points, remember that your body is completely unique. Plastic surgery cannot make you look like someone else, but it can help you look and feel your best.
Your Physical Evaluation
Another portion of the consultation focuses on a) assessing your candidacy for surgery based on health and b) assessing the area of the body for procedure suitability. Dr. Roth makes sure you are healthy enough to undergo surgery and examines your area(s) of concern to make sure the cosmetic procedure can achieve what you expect. That process includes reviewing:
Health history
Current health conditions
Medications
Surgical history
History of allergies
BMI (Patients should be in a healthy BMI range for elective surgeries.)
Any other pertinent health information
Generally, all people in good overall health are candidates for cosmetic surgery. Dr. Roth makes sure you are informed of all the risks and benefits associated with the procedure.
Financial Considerations
Our patient coordinator will discuss the cost estimates for the treatment plan you have chosen. We present your payment options, as well as financing plans you may wish to apply for. Most insurance policies do not cover elective procedures, but financing plans are often an option for patients who do not want to pay the lump sum upfront. Many cosmetic surgery patients feel the initial investment is well worth it: Aesthetic results continue to provide a return year after year, enhancing self-confidence and boosting your body image.
Q&A With Dr. Roth
Of course, the consultation also provides ample opportunity to ask questions. Typically, our guests have a prepared list of questions so that nothing is left out. Dr. Roth makes sure you leave with all the answers, ensuring you can make an informed decision about surgery.
Here are a few examples of questions commonly asked at the time of consultation:
How often do you perform the procedure I am interested in?
Have you completed any specialized training in this procedure?
How quickly will I be back to normal?
Are you board certified and why does it matter?
What other qualifications do you have?
Where will the surgery be performed?
Will someone need to bring me to the appointment and drive me home?
What should I do upon arriving home from surgery?
How long will the results of this procedure last?
Is there anything I can do to maintain the results?
This list is not exhaustive. You certainly may have other questions you want to ask. We encourage you to do some thinking ahead of time to generate a list to bring with you. And of course, don't hesitate to call us afterward if you think of anything else.
Meet

Dr. Roth

Dr. Jeffrey Roth is a board-certified plastic surgeon and a Las Vegas local since 1977. Drawn to medicine by his innate desire to help others, he provides exceptionally natural-looking results, concierge-level service, and long-lasting connections to every person who walks through the doors of his practice, Las Vegas Plastic Surgery.

Get to Know Dr. Roth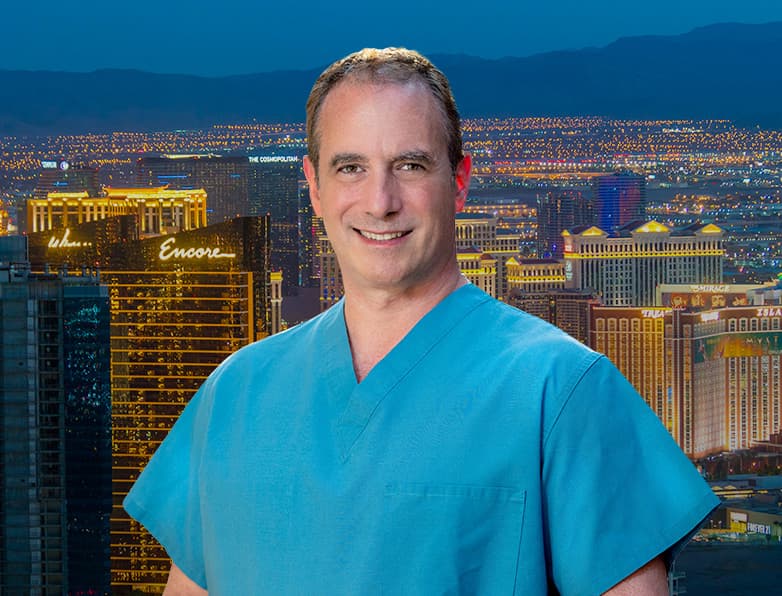 Credentials You Can Trust:


Step 2: Your Pre-Op Visit & Your Procedure
Once your surgery is scheduled, it's time to make sure you're ready for surgery.
Your Pre-Op Health Check
You will undergo a general physical examination prior to your surgery. This is to ensure that no underlying medical problems exist that might interfere with the safety of your surgery. The anesthesiologist may have specific criteria to be met. Appropriate consultations with other specialists (cardiology, pulmonary, and so on) may be requested to address any issues. Any issues, however trivial they may seem, should be reported. For example, a seemingly innocent minor infection can result in a surgical wound infection and must be treated prior to surgery. Likewise, hypertension must be under control. Blood pressure medicines are typically taken right up to the time of your procedure.
Cigarette smoking has a significant impact on wound healing and needs to be discontinued prior to the operation. Serious wound healing complications can occur in patients who are exposed to smoke, even passively. The risk of wound healing problems decreases after one quits. Appropriate timing of surgery after cessation of tobacco exposure can be discussed.
Taking Your "Before" Photos
Preoperative photographs are taken. They assist in planning the procedure and reviewing the improvement afterward. Postoperative photographs are generally taken at 3 and 6 months later as well.
Signing Forms & Writing Prescriptions
You will be asked to sign a surgical consent, which enumerates the risks of the procedure in detail. Some of these risks have been reviewed here but are also discussed at the consultation. Appropriate prescriptions are written (e.g., pain pills) so that you will be able to take them when you return home after surgery.
Arranging Your Transportation
You will need to arrange for someone to drive you to and from the surgery center. Patients cannot drive after surgery, nor for 10 days afterward. Recently sedated patients will not be placed into taxis for transport home. Medical transportation can be arranged in the event that you cannot find someone. It is also mandatory to have someone stay with you for at least 24 hours after surgery for your comfort and safety.
The Big Day
When you arrive at the surgicenter, the nursing staff will register you and have you change into the appropriate gown.
The choice of anesthetic will be made with input from you, Dr. Roth, and your anesthesiologist, who will be continuously monitoring your vital signs throughout the operation.
Step 3: Recovery & Aftercare
Your consultation will, of course, include a discussion of what happens post procedure. Most individuals are curious to know the steps taken to achieve their final results and what to expect in the days after surgery. Your consultation also includes information about recovery and downtime for your specific procedure; which is important to plan for.
All cosmetic surgeries differ, especially when it comes to recovery. In general, you may need to take several days to several weeks of downtime as it relates to:
Work
Heavy lifting
Strenuous activity
Child care/lifting your child
Bending
Running/swimming/climbing/weightlifting
There will also be instructions related to showering and keeping the incision(s) clean. You may need to wear a compression garment for a couple of weeks, as well as bandages. A follow-up appointment will be scheduled in advance.
Reviews
Read what real people like you have shared about their experiences with Dr. Roth and his team.
Read Our Reviews
A New You Starts Now
Dr. Roth is a board-certified plastic surgeon, and he is personally committed to helping his patients look and feel their best. If you are ready to start your journey, request a consultation online or call (702) 450-0777 . We happily welcome plastic surgery patients from throughout Henderson, the greater Las Vegas area, and around the world.