Las Vegas Plastic Surgery: Jeffrey J. Roth M.D. F.A.C.S.
6140 S. Fort Apache Road, #100
Las Vegas, NV 89148
Phone: (702) 450-0777
Monday–Friday: 9 a.m.–5 p.m.

Lift Your Look to New Heights
Having children, losing weight, and the effects of gravity over time can all take a toll on the appearance of the breasts. Over the years, once-perky breasts begin to sag, deflate, and droop lower on the chest. If this sounds familiar, you may be a candidate for a breast lift (mastopexy) performed by board-certified Las Vegas plastic surgeon Dr. Jeffrey Roth.
A breast lift turns back the clock and lifts the breasts to a more youthful shape and position. Whether you are looking to reclaim your body after baby or simply regain the shape you used to love, a breast lift can bring your aesthetic goals to life.
Featured Breast Lift Before & After Photos
WARNING:
This feature contains nudity. Please click OK to confirm you are at least 18 years of age and are not offended by such material.
What Is a Breast Lift?
A breast lift is a surgical technique designed to reshape and lift sagging or drooping breasts. The procedure may be combined with an implant to increase fullness or restore volume. This is known as a breast lift with implants. The surgery can also be combined with a procedure to reduce the size of the areola if needed.
Who Is an Ideal Candidate for a Breast Lift?
Ideal candidates are generally healthy nonsmokers who have a healthy mindset and realistic expectations for their results. Typical breast lift candidates are women who have undergone weight loss, breastfeeding, or aging and want to restore their breasts by correcting drooping, sagging, or deflation.
How Much Does a Breast Lift Cost in Las Vegas?
The cost of a breast lift at our Las Vegas plastic surgery practice varies from person to person depending on the technique used, whether an implant is included, and other factors. During the consultation process, Dr. Roth's team will provide you with a personalized price estimate.
Why Choose Dr. Roth for Your Breast Lift?
In addition to his many years of training, impressive credentials, and special expertise, Dr. Roth offers something more: a welcoming, personal approach designed to support you from start to finish. Dr. Roth prioritizes creating exceptional results as well as providing an exceptional experience with each step of the way.
Meet

Dr. Roth

Dr. Jeffrey Roth is a board-certified plastic surgeon and a Las Vegas local since 1977. Drawn to medicine by his innate desire to help others, he provides exceptionally natural-looking results, concierge-level service, and long-lasting connections to every person who walks through the doors of his practice, Las Vegas Plastic Surgery.

Get to Know Dr. Roth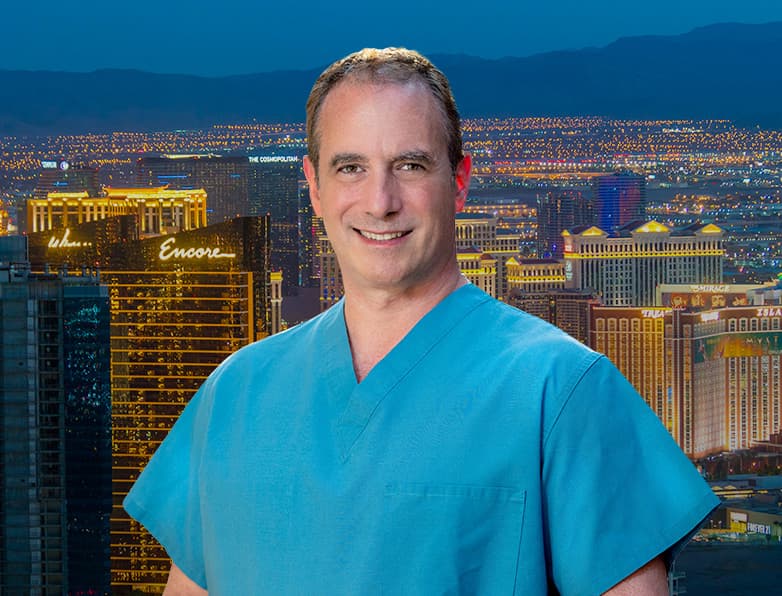 Credentials You Can Trust:


What To Expect During Your Breast Lift Consultation
Dr. Roth will examine you and describe not only what he sees but also how it relates to your appearance or other issues. Many items need to be considered, including the extent of the drooping, your breast size, your chest size, and the current placement of the nipple and areola. The nipple and areola will have to be repositioned in most cases. He will then explain what might be done to improve each area medically or surgically. Scar placement is usually discussed, as well as the option of an implant (if appropriate). You may not wish to take advantage of every available treatment, but at least you can know about available options and what each might offer.
Reviews
Read what real people like you have shared about their experiences with Dr. Roth and his team.
Read Our Reviews
How Is Breast Lift Surgery Performed?
There are different ways to perform a breast lift. These are determined by the individual's anatomy, tissues, and goals. The most common techniques include:
Inverted T or anchor: This technique uses an anchor-shaped incision that results in a scar around the areola that then runs vertically down to the breast crease and horizontally along the breast crease. Dr. Roth typically recommends this for women with larger breasts seeking a more substantial lift.
Lollipop: This popular approach uses an incision around the areola and vertically down to the breast crease.
Concentric or doughnut: Recommended for women with less natural breast tissue, this technique removes a circle of tissue from around the areola and results in a circular scar.
Although there are variations in how this procedure can be performed, the areola (which stays attached to the patient) is typically repositioned to a higher position on the breast. The procedure can take 1 to 3 hours to complete, depending on the method used.
What to Expect
Bringing your best look to life is as easy as 1-2-3.
What Is Breast Lift Recovery Like?
Remember that any surgical procedure requires a certain recovery period from the surgery and anesthetic. Individuals vary, but soreness, swelling, and bruising are possible.
You will need someone to drive you home from the surgery center and to your follow-up visits with Dr. Roth. You should also have someone stay with you the first couple of days after going home. Remember, no driving for 10 days after the procedure. Any discomfort following a breast lift is usually controlled well with prescribed pain medication.
Your surgical bra will act as the "dressing" during your recovery, supporting your breasts while they heal. After 4 months, you may sleep without the bra. You may shower following your first post-operative visit.
How Long Will I Need Off Work for a Breast Lift?
Most patients can return to work after a week or 2 if no twisting or heavy lifting is required. You may need more time if your job is physically strenuous. Most people can comfortably resume full workouts after 4 to 6 weeks.
A Few More Breast Lift FAQs
Q: How long do I need to sleep elevated after a breast lift?
A: If you can, it's best to sleep on your back with your upper body at a 30- to 45-degree angle for 4 to 6 weeks following your breast lift. You can do this by sleeping in a recliner or propping yourself up on pillows. If you find it hard to sleep this way, try placing pillows under your arms and legs to keep you upright and stop you from rolling over.
---
Q: Does a breast lift make you smaller?
A: A breast lift does involve removing a bit of excess skin and tissue to create a perkier and more lifted look. However, while this may technically make your breasts a bit smaller, you may find they look about the same size. In many cases, a more even distribution of volume gives the breasts a rounder look, with more upper pole fullness.
---
Q: When can I sleep on my side after a breast lift?
A: After your 4- to 6-week window of sleeping your back with your upper body elevated, you can generally return to your normal sleeping position, including side sleeping. If you find the pressure on your breasts uncomfortable, return to sleeping on your back for another few days.
A New You Starts Now
If you would like to start your breast lift journey with Dr. Roth, please request a consultation online or call (702) 450-0777 . We happily welcome plastic surgery patients from throughout Henderson, the greater Las Vegas area, and around the world.