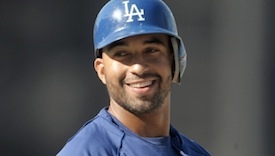 Las Vegas Plastic Surgery
Fan Can't Believe Matt Kemp's Gesture
Those of you who read this plastic surgery blog know that I am involved with sports and athletes, particularly with boxers who fight in Las Vegas. I recently came across a story written by Bill Plaschke for the Los Angeles Times. This is a story about a baseball player who made a lasting impression on a young fan.
The fan was a small spot of blue in a sea of orange and black. The Dodgers were playing their National League West rival the San Francisco Giants. In AT&T Park sat 19 year old Joshua Jones. He has inoperable tumors in his spine. His doctors told him that he has 90 days to live. Because Joshua is a huge Dodgers fan, his family scratched together enough money to buy four front row seats since they might not have another opportunity to see the Dodgers again together as a family. Joshua's favorite player is Matt Kemp.
When they were seated, Joshua's father asked a Dodger coach if Kemp could sign a ball for him. The coach said that he would ask.
Matt Kemp and the rest of his team have not been on a good run lately. They were just swept by their rivals. Kemp could have just left and got on the team bus, but he didn't. He went over to the young fan. He signed a ball.
Then Kemp saw something. Maybe it was the kid's lost stare. Maybe it was his painfully frozen limbs.
Kemp then gave him his cap. Then pulled his jersey over his head and placed it into Joshua's lap. Then off came his cleats. Those too, went to Joshua.
Kemp did not know that Joshua's buddy had been getting it all on video, which now has "gone viral."
Joshua's brother Ryan noted, "I don't think words can explain how great this was." "If this is the last memory of his life, it was an incredible one."
Kemp was also moved by the experience: "I don't think some athletes understand how big it is to be an athlete, what they can do with just a simple gesture of shaking a kid's hand," Kemp said. "It can make a fan's day. It can make a fan's life. Sometimes I forget how much people look at you as their hero," he said. "I forget that."
I think everyone that day took home an experience that will last a lifetime.
Jeffrey J. Roth, M.D., F.A.C.S.
(702) 450-0777
www.jjrothmd.com
References:
Los Angeles Times