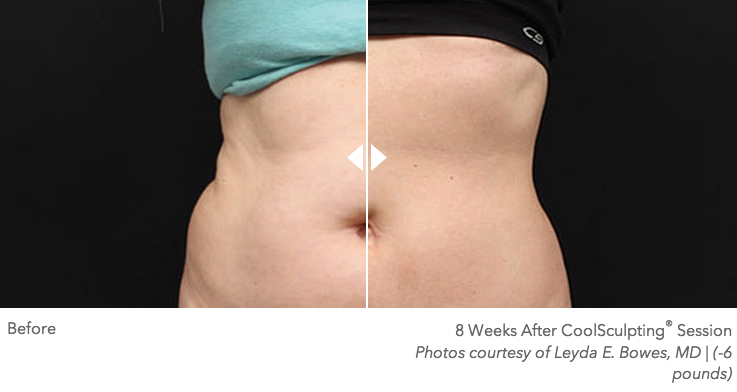 Las Vegas Plastic Surgery
We are often asked about changing the contour of one's body. Even people who work out regularly and have a proper diet can have some hard-to-reduce areas. If asked, most people will admit they have "an area or two" that they would improve if given the chance. Liposuction has been a terrific tool for this issue. Some people do not choose to go this route, due to the time off required for recovery, a fear of anesthesia, and the like. There is now a viable option for those who wish to get rid of unwanted fat, but do not wish to do liposuction.
The CoolSculpting procedure is the only FDA-cleared, non-surgical fat reduction treatment that uses controlled cooling to eliminate stubborn fat that resists all efforts through diet and exercise. The results are proven, noticeable, and lasting, so you can look great from every angle.
CoolSculpting technology safely delivers precisely controlled cooling to gently and effectively target the fat cells underneath the skin. The treated fat cells are crystallized, (frozen), then die. Over time, your body naturally processes the fat and eliminates these dead fat cells, leaving a more sculpted you. Once the fat cells are gone, they're gone for good.
The device, (which looks like a big suction cup), is positioned on your body and controlled cooling is applied. During your procedure, feel free to read, watch videos, check email, get a facial, or even take a nap. Sit back, relax and say goodbye to stubborn fat.
The CoolSculpting fat freezing procedure is completely non-surgical, so you can typically return to normal activities immediately.
You can reduce fat on multiple areas of your body with the CoolSculpting procedure, and additional sessions may further enhance your results. An individualized treatment plan is tailored just for you.
Treating unwanted areas of fat and achieving a better shape is now possible without surgery or appreciable downtime. Long-term results in those areas that have resisted all efforts through diet and exercise can be achieved. For further information on CoolSculpting, please call the office to find out if the CoolSculpting fat freezing procedure is right for you.
Jeffrey J. Roth, M.D., F.A.C.S.
Las Vegas Plastic Surgery
(702) 450-0777
References:
CoolSculpting